"DISNEY SUPER GUITAR" FEATURING ZAKK WYLDE, PAUL GILBERT, GEORGE LYNCH AND MORE TO BE RELEASED ON APRIL 27TH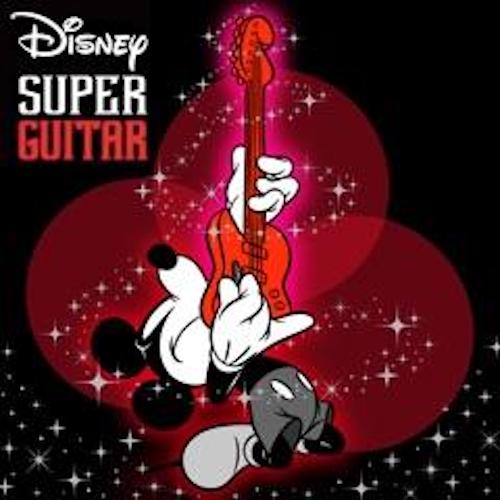 The new instrumental album Disney Super Guitar features world-famous guitarists Zakk Wylde (Ozzy Osbourne, Black Label Society), Paul Gilbert (Mr. Big), Tak Matsumoto (B'z), George Lynch (Dokken), Orianthi, and others performing hard-rocking, virtuosic versions of timeless Disney songs.
With cover art depicting Mickey Mouse "shredding" on an electric guitar, Disney Super Guitar releases worldwide on April 27th, through Walt Disney Records. In addition to the guitar stars already listed, the album also features Phil X (Bon Jovi), Ron Thal (Guns N' Roses), Jeff Watson (Night Ranger), Mike Orlando (Adrenaline Mob), and Richie Kotzen.
Every song on Disney Super Guitar is a Disney classic updated to appeal to both guitar fans and Disney fans alike, and all songs are powered by a backing band comprising guitarist John Bruno, drummer B.J. Zampa, bassist Chris Vescera, and keyboardist Michael Vescera (Chris's father), who co-produced the record with the album's mastermind, renowned producer Death-Rider.
"Disney Super Guitar is a natural follow-up to our first guitar-powered Disney release, which was Metal Disney" says Death-Rider. Metal Disney was released in 2017 and peaked at number one on Amazon's Metal chart. Listen via Spotify here.
The guitar virtuosos on Disney Super Guitar enjoyed re-imagining famous Disney tunes in their own ways. For example, Grammy-winning guitarist Tak Matsumoto, who has sold over 80 million albums with his rock duo, B'z, takes When You Wish Upon a Star to new heights with a soaring, overdriven lead guitar rendition of the main theme — a theme that reappears later in the song as a down-home blues epilogue. "Everyone knows this beautiful melody, and I tried to express it in my own way," says Matsumoto. "I am so honored to be a part of this album. I hope you enjoy the guitar sound from Fujiyama country!"
Meanwhile, Zakk Wylde gives Beauty and the Beast a brutal metal touch. "Originally, it was a beautiful, dreamy piece," says Wylde. "Now, it's a cruel nightmare. I take pride in that."
Hellfire finds George Lynch performing the song's main melody note-for-note in some places, yet, at other times, veering off into adventurous guitar approaches. "I mixed in everything from Roy Buchanan and Jeff Beck tricks to pick swipes and vibrato-bar moves," says Lynch. "I threw in everything but the kitchen sink."
Paul Gilbert took direct inspiration from the title of the song he chose. "I played electric guitar on Under the Sea," he says. "To create an under-the-sea sound, I operated my wah-wah pedal as quickly as possible while playing my guitar parts."
Disney Super Guitar track listing:
1. Zakk Wylde – Beauty and the Beast [Beauty and the Beast] 2. Paul Gilbert – Under the Sea [The Little Mermaid] 3. Tak Matsumoto – When You Wish Upon a Star [Pinocchio] 4. Mike Orlando – A Whole New World [Aladdin] 5. Orianthi – Someday My Prince Will Come [Snow White and the Seven Dwarves] 6. George Lynch – Hellfire [The Hunchback of Notre Dame] 7. Richie Kotzen – Can You Feel the Love Tonight [Lion King] 8. Jeff Watson – Colors of the Wind [Pocahontas] 9. Phil X – Chim Chim Cher-ee [Mary Poppins] 10. Ron Thal – Reflection [Mulan]
Listen on Spotify and to purchase, please visit iTunes and Amazon.