DIRECTOR OF DUFF MCKAGAN'S DOCUMENTARY DISCUSSES THE BASSIST, GUNS N' ROSES AND AXL ROSE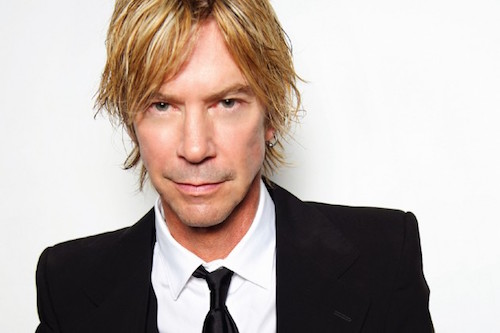 Melinda Newman of Billboard spoke with Christopher Duddy, who directed Duff McKagan's documentary, It's So Easy and Other Lies. Portions of the interview appear below.
Billboard: You and Duff met in the least rock and roll way possible: walking your kids to school.
Duddy: We had moved in to a nice neighborhood in Sherman Oaks [in Los Angeles], and unbeknownst to me, Duff lived about three houses up from us. We became fast friends. We'd watch NFL games together. We saw each other every day. It was cool to see somebody like that was super down to earth, a guy you'd want to hang out with.
Billboard: How did you go from friends to helming the documentary?
Duddy: We all know Duff from Guns N' Roses forward. I didn't know much about his backstory. The book struck a chord with me so I approached him [about] a documentary. He said no, he didn't want to do that, he thought the book was good enough. I just didn't give up on it.
Billboard: The documentary spends little time on Guns N' Roses. Duff talks about the first time he hears Axl sing, but there's no footage of them in the studio or mention of their breaking up. Why?
Duddy: Duff was real adamant from the beginning that he didn't want this to be a Guns N' Roses documentary. I didn't either, because it's a story about his journey through life and successes and darkness. During the course of us making the movie, the talks started about the reunion tour and Duff wanted to be real sensitive about that and not convolute anything with that going on.
Billboard: Guns N' Roses members Slash and Matt Sorum are in it. Did you ask Axl to participate?
Duddy: We reached out gently. He can be a volatile guy, so we really didn't want to disrupt anything with his camp and with the talk of this reunion tour. I sent his manager a rough cut of the movie. I didn't want to push too hard on that. It is what it is.
Billboard: This was shot over a three-year period?
Duddy: It was shot in spurts over three years. Before the [Guns N' Roses] reunion, Duff's been in like five bands. He was constantly going on tour and I would lose him for a month at a time. I've never seen anybody as busy as that guy.
Billboard: Are you tying in with the Guns N' Roses reunion tour or is this timing just coincidence?
Duddy: It's pretty much lucky coincidence for the filmmakers and producers. This movie was done a year ago. Not in our wildest dreams did we know this movie was going to hit the same summer they're doing this monster tour. That was just luck of the draw. That's the silver lining at the end of this very long process.
Read more at Billboard.
It's So Easy and Other Lies opened on June 3rd for an exclusive theatrical run in Los Angeles.
source: billboard.com