DIO MEMORIALIZED BY MUSIC COMMUNITY IN L.A.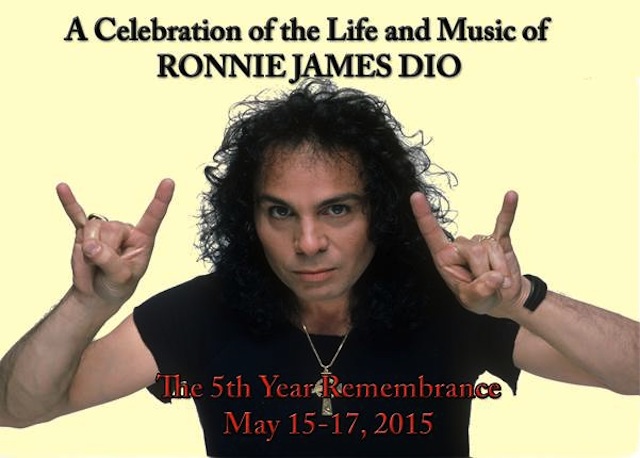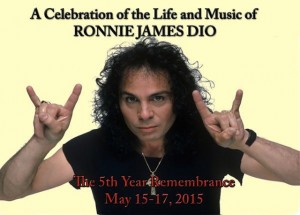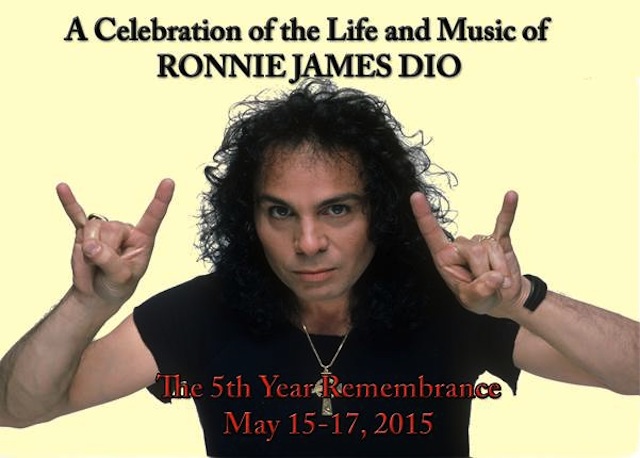 Scott Essman of Visionary Cinema reports:
To the naked eye, Ronnie James Dio (1942-2010) might have been offhandedly slight of stature, but musically and otherwise, he was most assuredly a mountain of a man, both onstage and off. His thundering operatic voice soared across almost 40 years of songs in numerous prominent bands, but his kindness of spirit might be even more highly regarded than his artistic talent by those who knew him.
This month, the music community gathered for the fifth anniversary of Dio's passing, to pay tribute not only to the singer's massive musical successes, but equally if not more so to his benevolent character. Surely, the man is most known as the lead singer and frontman for seminal bands including Rainbow in the mid-1970s, Black Sabbath in the early-1980s, and his own band Dio in the 1980s and beyond. However, countless music insiders point to Dio's unswerving devotion to his many bandmates, friends, fans, and those in need with whom he came across.
At Forest Lawn Cemetery in the Hollywood Hills, music historian and TV show host Eddie Trunk presided over a ceremony that brought together Dio's family and extended musical family, in addition to his many admirers and followers, all of whom sang his praises as being a truly considerate person on equal footing with his appreciable vocal and songwriting skills. "I think that it sells Ronnie short when people call him a great metal singer," Trunk said an hour before the ceremony proper. "I think he was a great singer across the board when you listen to all the range in the music that he made. What's most amazing about him is his consistency, right up to the very end."
When Dio passed of stomach cancer on May 16th, 2010, Trunk was asked to host the first memorial at that time, with efforts since then going towards Dio's Stand Up and Shout Cancer Fund. "Obviously that was tough because we had just lost him," Trunk said on a cloudy Saturday in front of a sizable Dio museum gallery. "Now, five years later, Wendy [Dio, Ronnie's widow] said she wants this to be a bit more celebratory, remember him in the stories, and have a little fun with it. Obviously, we're still mourning him, but I think people that come to this, and the people who are here, will realize the magnitude of the loss but also realize the great memories that we still have."
Upon the ceremony's closing [this year], the aforementioned Wendy Dio simply and succinctly summarized the impact that her late husband has had on an entire industry. "Listen to Ronnie James Dio because he's the greatest singer and songwriter," she advised her husband's many devotees. "If you are a young musician, be true to yourself; do what your heart wants you to do. Don't listen to other people. Do what's in your heart."
Read the entire article, with reflections by drummer Vinny Appice, guitarist Craig Goldy, guitarist Chris Broderick (Megadeth) and guitarist David "Rock" Feinstein (The Rods), here.