DIO HOLOGRAM TOUR TO START IN NOVEMBER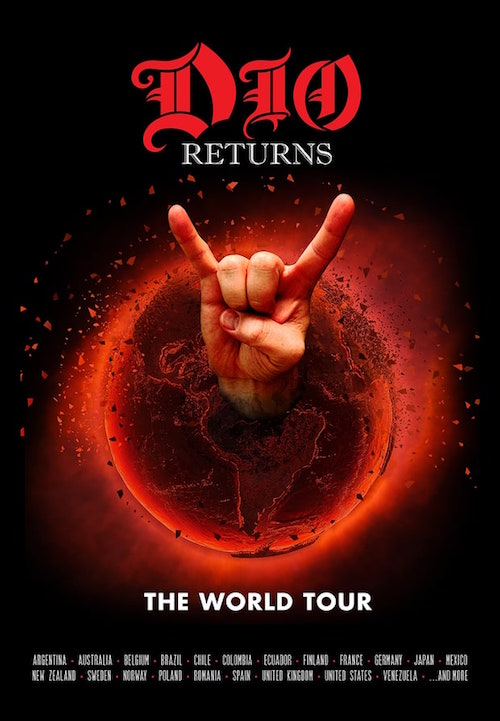 Kory Grow of Rolling Stone reports:
After debuting at last year's Wacken festival in Germany, a hologram of late heavy-metal singer Ronnie James Dio will set out on a world tour, backed by musicians who played with him, this fall. The trek, dubbed Dio Returns, will begin with a European leg of performances in theaters on November 30th in Helsinki before hitting South America, Australia and Asia. The tour will arrive in the U.S. in the spring of 2018 and hit select festivals next summer…
…this hologram project…gives the fans that saw Ronnie perform an opportunity to see him again and new fans that never got to see him a chance to see him for the first time. We hope everyone will enjoy the show that we have all worked so hard to put together," says the singer's widow, Wendy Dio.
The Dio estate has worked with hologram company Eyellusion so the singing specter could perform many of the late vocalist's hits, including Holy Diver, Rainbow in the Dark, We Rock, King of Rock and Roll, Black Sabbath's Neon Knights and Heaven and Hell and Rainbow's Man on the Silver Mountain, among others. The production uses audio of Dio's live performances from throughout his career with a live band backing him up in front of a stage set that hearkens back to the singer's Sacred Heart and Dream Evil tours. The hologram's set will differ from night to night, and audiences should expect to see the Dio Band also perform with vocalists Tim "Ripper" Owens and Oni Logan on select dates.
The Dio Band consists of guitarist Craig Goldy, drummer Simon Wright, keyboardist Scott Warren and bassist Bjorn Englen. The musicians have previously made appearances as the Dio Disciples…
…The response Goldy has gotten to the hologram performances has been mixed. "Ronnie was, and still is, so revered by his fans, which really are his extended family, and they, too, had a special relationship with the man himself which entitles them to a voice. Like all families, not everyone agrees, but this was a gift to the fans that was created in the very same spirit in which Ronnie gave throughout his whole career and created these amazing stage shows that rivaled Madonna and Michael Jackson."
Read more at Rolling Stone.
Dio Returns Tour Dates
November 30 – Helsinki, Finland @ The Circus
December 3 – Stockholm, Sweden @ Fryshuset
December 4 – Oslo, Norway @ Rockefeller Music Hall
December 6 – Warsaw, Poland @ Progresja
December 13 – Barcelona, Spain @ Bikini
December 15 – Santander, Spain @ Escenario Santander
December 17 – Bucharest, Romania @ Arelene Romane
December 20 – Antwerp, Belgium @ Trix
December 21 – Tilburg, Netherlands @ 013
source: rollingstone.com