DIAMOND HEAD SIGN WITH DISSONANCE AND WILL RELEASE THEIR NEW SELF-TITLED ON APRIL 22ND, BAND IS CURRENTLY ON A NORTH AMERICAN TOUR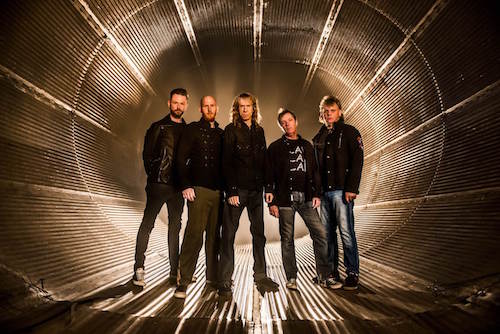 Influential and iconic heavy metal band, Diamond Head, have announced their first album of new material in eight years. Called Diamond Head, the album features an exciting new talent in singer Rasmus Born Andersen.
The band has signed with Plastic Head/Dissonance Productions and the record will be released on April 22nd, 2017. They will also be rereleasing their last two releases worldwide, All Will Be Revealed and What's In Your Head on May 20th, 2017. In addition, all albums will be released on limited edition colored vinyl on Backs On Blacks Classics label on June 20th, 2017.
In 2014, Diamond Head invited London based, Danish-born Ras to join the band. Together, they completed a European tour, which included appearances at Hard Rock Hell and Headbangers Open Air Germany.
The spark of creativity led the band to start working on the new album in January 2015, Brian Tatler, founder of Diamond Head said, "When we began talking with Ras about making a new record, he said, we should write the songs as a band just like Diamond Head did at the beginning of our career. There's no substitute for writing together in the same room, we spark each other off and create something far bigger then we could have done individually."
Brian continued, "Ras has certainly renewed the energy within the band. I had no interest in doing another record, but after working with Ras on the European tour, that all suddenly changed. I wanted to make a record with him. He's a confident singer and he's not trying to fill anyone's shoes."
Speaking about the new album, Brian said, "This new album has an echo of the early albums, but I always try to push our music forward somewhere new, if possible."
Ras adds, "All in all this album was made with the band's first fans foremost in mind from start to finish. We wanted to write songs that would have ties to the best parts of all of the previous albums. We feel we have achieved what we set out to do and we hope everyone will hear and feel the Diamond Head spirit through this new eponymous record."
In general the album lyrics focus on political and environmental themes, specifically warning that our world is in many ways leaning towards self-destruction. The opening and closing songs encapsulate these topics, while the body of the album explores subtopics in more depth, along with songs dealing with lighter subjects.
Watch the video for, All The Reasons You Live, below.
Diamond Head North American tour dates:
North American Tour November 1- December 4th
Confirmed Dates:
11/12 Houston, TX Concert Pub North
11/13 Dallas, TX Trees
11/15 Nashville, TN Mercy Lounge
11/16 Pittsburgh, PA Rex Theater
11/17 Sellersville, PA Sellersville Theater
11/18 Baltimore, MD Fish Head Cantina
11/19 Poughkeepsie, NY The Chance
11/20 NYC, NY Webster Hall's Marlin Room
11/21 Rochester, NY Bug Jar
11/22 Montreal, QU Katacombes
W 11/23 Ottawa, ON Brass Monkey
11/24 Toronto, ON Garrison
11/25 Detroit, MI Token Lounge
11/26 Chicago, IL Tailgators
11/27 Milwaukee, WI Metal Grill
11/28 St. Louis, MO Fubar
11/29 Kansas City, MO Harrah's Voodoo Lounge
11/30 Denver, CO III Kings
12/2 Hollywood-The Whisky
12/3 Corona, CA M-15 Concert Club
12/4 Crockett, CA Toots