DIAMOND HEAD GUITARIST BRIAN TATLER ON METALLICA COVERING "AM I EVIL", [THE BAND] HELPED US GET OVER TO AMERICA AND REACH AN AUDIENCE THE WE OTHERWISE WOULDN'T HAVE"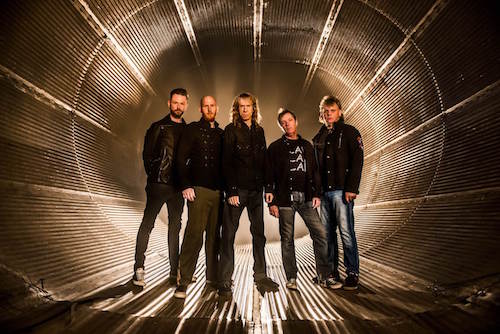 Ruben Mosqueda of Metal Titans spoke with Diamond Head guitarist, and founder, Brian Tatler. Highlights from the interview appear below.
MetalTitans: There are parallels between UFO and Diamond Head stateside; both acts caught the collective ear of American Metal musicians and cite Diamond Head as a direct influence. While you didn't sell millions of records you have the respect of several metal acts. That's got to be gratifying.
Brian Tatler: It's really flattering to be influential on any musician. I think it was something about our songs that people really liked. I think our music was ahead of its time and sounded unique.
I have to add that I love UFO and love Michael Schenker; I agree that they are a highly influential band and I thank you for including us with them. I have to say that we didn't even sell records like UFO who were a gigantic band compared to us. I think you almost have to go out of your way to find a Diamond Head record; because we didn't get any exposure in America. We were a 'word of mouth' kind of band.
MetalTitans: In America the first taste of Diamond Head was second hand, as Metallica covered Am I Evil. They recorded it and at one point it made it onto a pressing of Kill 'Em All.
Brian Tatler: I think it was Lars [Ulrich] that called us in '84 saying that the band [Metallica], planned on putting Am I Evil as the B-side of Creeping Death [in Europe]. I'm not sure if they issued that in America. It was released in Europe on a big indie label called Music for Nations. When their deal with Megaforce Records ended and they signed with Elektra Records Kill 'Em All was reissued with Am I Evil and Blitzkrieg as bonus tracks. That was just am added bonus for us. The biggest accolade for us when they put all the Diamond Head covers on the Garage, Inc.. album. That was amazing. I knew then that they were going to reach a lot of people. [laughs] Garage, Inc. has sold something like 5 million copies.
MetalTitans: The royalties off the songs covered by Metallica must be incredible.
Brian Tatler: Oh, they're fantastic. Thank you, boys. [laughs] Metallica helped us get over to America and reach an audience that we otherwise wouldn't have [reached]. Borrowed Time was released in America in '82 but I don't believe that Canterbury ['83] was ever released in America. Like you stated earlier, it wasn't until the mid-80s that Lightning to the Nations [Behold the Beginning] was released on Metal Blade [Records]. I feel that without Metallica we would have been a really obscure New Wave of British Heavy Metal band.
MetalTitans: In '93 something really cool took place where Metallica asked Megadeth and Diamond Head to support them in the U.K. I remember reading about that in Kerrang! Magazine or another import magazine. That's all we had in those days.
Brian Tatler: In '93 there was a big festival called National Bowl in Milton Keynes; it was as you stated Metallica headlining, then Megadeth, there was another band [The Almighty] then Diamond Head opened the show. We all played on the same stage; it 2011 we played a few shows opening for the Big 4. We opened shows in the U.K. and in France–that was great.
MetalTitans: Let's do which do you prefer; The Rolling Stones or The Beatles?
Brian Tatler: Beatles. I just love the songs. I've become a bit mad about The Beatles in the last few years. I've always loved them. My brother who's 6 years older than I got me into guitar was in love with The Beatles. I recall he was in The Beatles fanclub and used to get the flexi discs for Christmas and stuff like that. I really appreciate their songwriting. They were so original and they broke down so many barriers. They simply paved the way for the rest of us. I listen to and watch anything related to The Beatles because there's master craftsmanship happening there.
MetalTitans: [Led] Zeppelin or [Deep] Purple?
Brian Tatler: Zeppelin. [laughs] Zeppelin are my favorite band. They've been my favorite band since the 70s. Again, it's about the songs; I think Jimmy Page has written some incredible stuff. There was a brilliant chemistry between all four guys in that band. I think that's four of the most amazing four people to ever go into studio and make some amazing records. I love the entire catalog from top to bottom; I think I've almost overdosed on Zeppelin, really! [laughs] I don't play the records much anymore because I've heard them so many times. They're in my DNA.
Read more at Metal Titans.
In other Diamond Head news, the band recently announced U.S. tour dates, view their itinerary here. The band also released a new self titled album on April 22nd. Watch the video for, All The Reasons You Live, below.
source: metaltitans.com