DEF LEPPARD'S PHIL COLLEN SAYS HE'S "STILL WAITING" FOR THE NEXT GREAT ROCK BAND TO EMERGE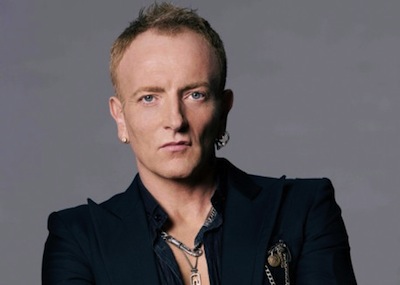 Def Leppard guitarist Phil Collen recently spoke with Listen Next! about where the next great band will come from once they, and other prominent musicians, retire.
Collen responded (per blabbermouth.net),  "I don't know. I'm still waiting, actually. You hear a lot of stuff out there, but it's few and far between. There's a problem, I think, and I think it's the TikTok and YouTube crowd."
He continued, "When bands or artists would write before, it would be because they wanted to be an artist and wanted to express themselves and write songs and share them and go, 'Wow. Check this out', as opposed to, 'Wow. Look at me. Please love me. I don't wanna sound like an old dude, but that's what I noticed. And I'm still waiting for someone like Prince or [LED] Zeppelin or something that has a bit more something to it. There's very little stuff."
"Metallica's great; when you see 'em, there's a big difference," Collen said. "Guns N' Roses are awesome. I don't see that anymore; I don't see that star power. I don't see that kind of thing. So that's what I'm waiting for. There hasn't been any of that. Nirvana was… Obviously, Foo Fighters is an offshoot of Nirvana. And I love the Foo Fighters; I think they're great. But when Nirvana came out, I was, like, 'Woah, this is amazing.' The Sex Pistols — amazing. But I'm just waiting — still waiting."
When the interviewer implied that the rock scene is lacking, the guitarist said, "That question comes up quite a bit. People go, 'What about this?' And I don't hear anything. I hear derivative stuff and stuff that's not inspired. You wanna get inspired. So, yeah, I'm still waiting. It's like in every genre of music. In hip-hop, it's the same deal. You're waiting to hear… Or R&B. You listen to the old R&B — you listen to Stevie Wonder, you listen to Marvin Gaye and stuff like that — nothing is like that anymore and that kind of soul and vibe and everything. I think we've kind of comfortably got into something else that doesn't really demand that kind of excellence. It's rare that that kind of talent comes along."
Def Leppard's latest album, Diamond Star Halos, was released on May 27th. The band are currently on The Stadium Tour, with Mötley Crüe, Poison and Joan Jett. Remaining dates can be seen below.
August:
5 Boston, MA Fenway Park
6 Boston, MA Fenway Park
8 Toronto, ON Rogers Centre
10 Orchard Park, NY Highmark Stadium
12 Pittsburgh, PA PNC Park
14 Minneapolis, MN U.S. Bank Stadium
16 Indianapolis, IN Lucas Oil Stadium
19 Houston, TX Minute Maid Park
21 San Antonio, TX Alamodome
22 Arlington, TX Globe Life Field
25 Glendale, AZ State Farm Stadium
27 Inglewood, CA SoFi Stadium
28 San Diego, CA Petco Park
31 Seattle, WA T-Mobile Park
September:
2 Vancouver, BC BC PlaceSunday, 
4 Edmonton, AB Commonwealth Stadium /Stade du Commonwealth
7 San Francisco, CA Oracle Park
9  Las Vegas, NV Allegiant Stadium