DEF LEPPARD GUITARIST PHIL COLLEN DISCUSSES THE BAND'S NEW LIVE CD, TOURING WITH TESLA AND POISON, AND WHY THE BAND SEEMS TO BE SO POPULAR WITH NEW YORK AUDIENCES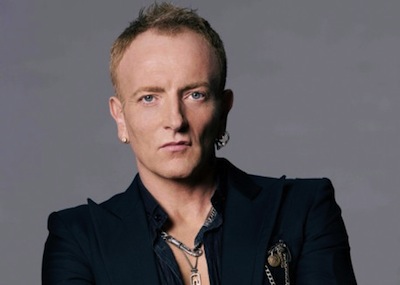 Greg Prato of the Long Island Pulse spoke with Def Leppard guitarist Phil Collen. The interview appears in its entirety below.
Pulse: How did the idea come up to do the new live DVD [And There Will Be a Next Time– Live From Detroit]
Phil Collen: The last tour (in 2016) everyone was saying, "This is the best we've ever heard you; this is the best we've ever seen the show." And this was consistent. The last run of dates, the first one to sell out was Detroit, and we thought, "We'll record it and document this"—literally for that reason. And that was it, really. The show went down a storm and it just captured where we were at.
Pulse: How would you compare playing onstage with Def Leppard now to say, in 1987, when Hysteria came out?
Phil Collen: We're way better now. We can sing properly. We were kind of busking it a bit then, shouting and screaming, and trying to get it in tune. Now, I'm a better singer this year than I was last year, and a way better guitar player. That goes contrary to what I've been led to believe, that when bands start sucking or a singer can't sing quite as well, or a certain player can't play as much, it's because they're not playing as much or singing as much or putting the effort in. It's like aging. Our bodies don't just break down because we're old, they start breaking down because we stop using them—they atrophy. On a side note, last December, I got to play with Jeff Beck in Japan. He plays all the time, and I was just blown away. I'm on stage, watching him, playing along with him, and he improves all the time because he keeps playing. I know a lot of guys from that era who don't really do that. But then again, they don't play. And I don't mean practice; I mean just play and keep it flowing, inspiration-wise. The same with athletes—you see NFL players quit, and then a year after, they're like twice their size when they were playing. They're just not active. So, it's really about that… staying inspired and staying in shape. That's the big difference with us… It just keeps getting better and better, and for me, it's really exciting.
Pulse: Def Leppard is touring once more with Poison and Tesla.
Phil Collen: I just produced the new Tesla album, which turned out phenomenal. It's not mixed yet, but it's different. It's really diverse. We've been touring with Tesla, and especially for the last two years, we recorded a lot of this stuff while we were on tour, and then we finished it up in Sacramento where the guys are from. I get to spend a lot of time with them. And Poison, the last time they went out, was with us in 2012. The brilliant thing about this lineup is it's the celebration of integrity. Poison are the same original four members and we're the same band that put out Hysteria, except Steve Clark passed away [in 1991] and Vivian Campbell is in the band. And Tesla is all the original members, except Dave Rude is playing instead of Tommy Skeoch. I really do treat it as a celebration of integrity and you can't say that this much these days.
Pulse: Def Leppard has been especially popular in New York for quite some time.
Phil Collen: It's the first place I ever came to when I came to the States. I was 19 and had a Greyhound bus journey across America. We sing with American accents because we learned from American artists. Rock music and pop music was an American art form, and that's how we learned. Even the Stones sung in American accents. It was a big deal for us to come to New York in the first place, as was LA. But the first "port of call" for me was New York, and the band, as well. We spent a lot of time there; the record company and the management were based there. So, we were able to work it a bit more. Maybe that's got something to do with it. But we did spend a lot of time there.
source: lipulse.com