DEF LEPPARD ANNOUNCE FIRST OF FOUR PLANNED CAREER-SPANNING BOX SETS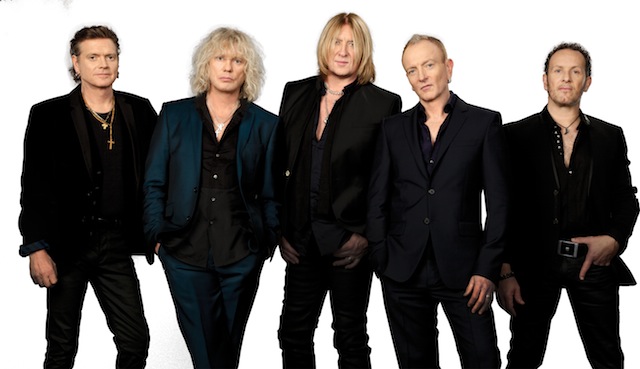 On June 1st, Bludgeon Riffola/Mercury/UMe fires the first salvo in Def Leppard's projected four-volume career-spanning box set series, when the appropriately dubbed Volume One appears in multidisc LP and CD collections. The collection arrives in time for this summer's highly anticipated Def Leppard co-headline tour with Journey.
This first volume of the band's complete recorded output comes in both limited-edition 180-gram heavyweight vinyl and CD box sets, each featuring Def Leppard's first four studio albums — along with some choice bonus live and studio material — all spread across 8LPs and 7CDs, respectively.
The Volume One collection includes bonus material, including Live At The LA Forum 1983, originally released as a bonus disc in the deluxe CD version of Pyromania, making this the first-ever vinyl offering of the complete show. This 2LP version comes with a new sleeve and inner bags.
Rarities Volume 1 has been specially compiled by Joe Elliott, containing rare B-sides and recordings from Def Leppard's early years, all in a newly commissioned sleeve. Finally, rounding out this collection is the 7-inch vinyl single and 3-inch CD of Def Leppard's original, self-titled EP.
The fiery Volume One collection contains all of Def Leppard's iconic 1980s recordings with reproductions of the original packaging in both formats, plus the added bonus of a replica 7-inch single and 3-inch CD of the band's original independent EP, the self-titled The Def Leppard E.P..
Each album in the box set was mastered by longtime band producer/soundmaster Ronan McHugh and cut by Greg Moore.
Housed in rigid boxes, the Volume One collection also contains a hardback book with rare photos by longstanding band confidant Ross Halfin and liner notes by Classic Rock's Paul Elliott. Def Leppard bandmembers Joe Elliott, bassist Rick Savage, drummer Rick Allen, and guitarist Phil Collen have all also contributed their personal introductions to the collection.
Volume One is an extraordinary early chronicle of a band whose global impact only continues to grow. Def Leppard have a cumulative sales tally of over 100 million albums worldwide, not to mention putting on consistently sold-out world tours. The band recently authorized their entire recorded catalog for access on streaming and download platforms, a move that resulted in a nearly 400 percent surge in catalog sales on the first day alone, as well as appearances in the iTunes Top 10 charts in over 30 countries worldwide.
Volume One begins with Def Leppard's 1980 debut album On Through The Night, which immediately put the rock world on notice that the band were destined for big things, having charted at No. 15 in the U.K. and No. 51 in the U.S. Produced by Tom Allom (Judas Priest, Black Sabbath), On Through The Night features many of the band's live favorites (Rock Brigade, Hello America), along with updated versions of early singles (Rocks Off). The album achieved platinum status in 1989, and the version included here is the rare Australian gatefold-sleeve version.
Released in 1981, High 'N' Dry was Def Leppard's second platinum album and the first to be produced by Robert "Mutt" Lange (AC/DC, Foreigner). It reached No. 26 in the U.K. and No. 38 in the U.S., having garnered much impactful FM airplay with the propulsive Let It Go and one of the band's most popular signature tunes to this day, Bringin' On The Heartbreak.
Pyromania, released in 1983, saw the band become indisputable rock legends. It was the first record to feature guitars by Phil Collen, who had replaced Pete Willis. The album contains massive MTV hits Photograph and Rock Of Ages, as well as fist-pumper Rock! Rock! (Till You Drop). Pyromania reached No. 2 in the U.S. and went diamond, with over 10 million album sales.
Def Leppard released Hysteria in 1987, the band's best-selling record to date having sold over 25 million copies worldwide. It went to No. 1 in the U.K., U.S., and Australia, and is also the band's second album to achieve diamond status in the U.S.. Notes Collen, "Not many people even get platinum albums anymore. Going diamond is going 10 times platinum in America, which is a huge deal — and we've got two of those. We're really pleased that we got them. It's pretty cool that we've achieved that."
Produced by Mutt Lange, Hysteria took over three years to make, ultimately featuring seven charting singles (including No. 1 smash Love Bites and Pour Some Sugar On Me), and has been rightly nicknamed as "heavy metal's Thriller." Clocking in at just over 62 minutes, Hysteria was then one of the longest albums ever issued on a single vinyl record — but for this special box set release, it has been made into a double LP for maximum sound-quality purposes.
Def Leppard's collective vocal prowess is but one of the many things that helped cement their unparalleled standing in rock history, as Joe Elliott explains, "The way we did our harmonies was based on the multitracking abilities of a band like Queen, but we took what they did to the next level. Queen maybe tripled or quadrupled their backing vocals — but we did it like 20 times. We wanted it to sound like the quality of Queen but have the size of Slade. The way we did it gave us a unique sound. And that's the whole point of an album, really — capturing a band's unique dynamics." Adds Phil Collen, "The American bands had beautiful vocals, with all those wonderful harmonies. But we added a bit of a punk ethos in there with ours, where it became a bit more charming and anthemic with screaming and shouting. And that was a very British thing, I think, that made us different from a lot of the American bands."
For the full track listing, please go here.