DEF LEPPARD AND MÖTLEY CRÜE'S "THE STADIUM TOUR" HAS SOLD ONE MILLION TICKETS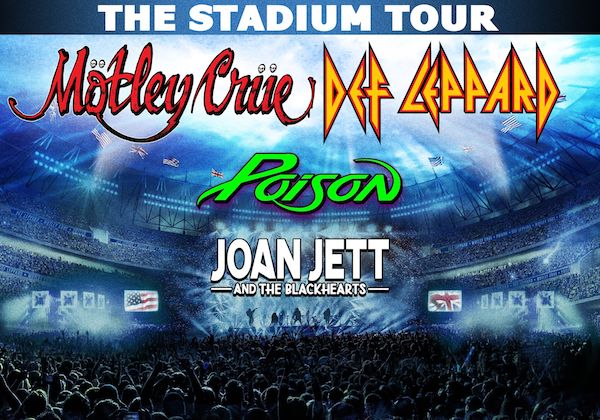 According to Billboard, Def Leppard and Mötley Crüe's stadium tour has already sold more than one million tickets. The package, which also includes Poison and Joan Jett & The Blackhearts, has grossed $130 million, with another $5 million generated from VIP seats. The tour saw the fastest sellout in Miller Park history in Milwaukee, with additional shows selling out instantly in Atlanta, Seattle, Charlotte, Dallas, Pittsburgh, Detroit, Chicago and Denver.
"[Def Leppard] was inducted into the Rock And Roll Hall Of Fame and [Mötley Crüe] has one of the biggest rock books ever that was turned into a film [The Dirt] and the film was seen by tens of millions," said Mötley Crüe's manager Allen Kovac. "We knew co-headlining would dramatically lift the ticket sales."
The Stadium Tour, which begins June 18th in Jacksonville, Florida, will be Mötley Crüe's first live dates since wrapping their 2014/2015 farewell tour. The band toured with Poison back in 2011 and Def Leppard teamed up with Poison for a string of road dates in 2017 — but the upcoming jaunt marks the first time all four acts have hit the road together for an extended tour.