DEEP PURPLE "MADE IN JAPAN" DELUXE VERSIONS ARRIVE MAY 27TH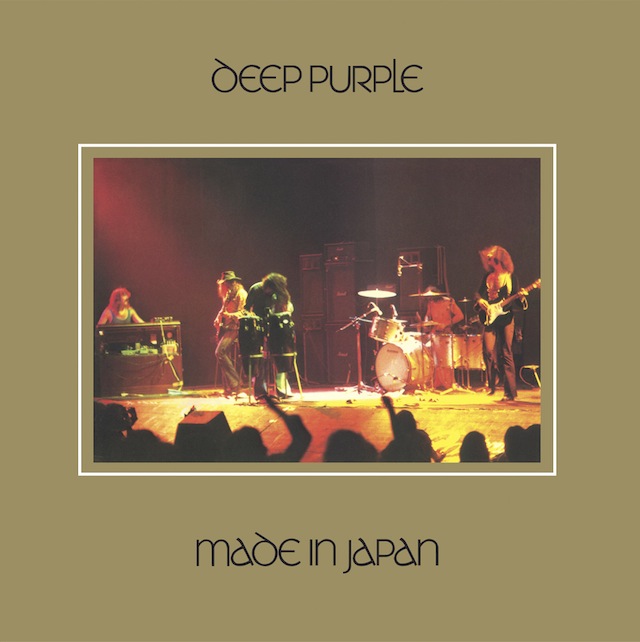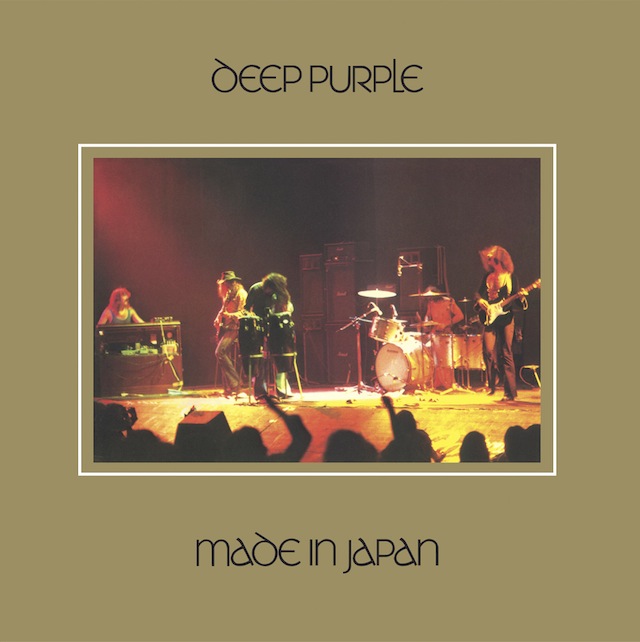 Together with Led Zeppelin and Black Sabbath, Deep Purple have been referred to as the "holy trinity of British hard rock and heavy metal" in the early to mid-Seventies. One of the most influential and important guitar bands in history, they have sold over 100 million albums worldwide.
Made In Japan was recorded live over three nights during August 15th-17th, 1972 at Festival Hall, Osaka and Budokan, Tokyo. Four of the tracks come from the band's 1972 Machine Head album. It featured what many consider the classic Deep Purple lineup – Ian Gillan (Vocals), Ritchie Blackmore (Guitars), Roger Glover (Bass), Jon Lord (Organ) and Ian Paice (Drums). Originally recorded only for the Japanese market, the album has since become seen as one of Deep Purple's seminal albums, and one of the greatest live albums of all time (A Rolling Stone reader's poll in 2012 voted Made In Japan as the sixth greatest live album of all time).
"Deep Purple was at the height of its powers. That double album was the epitome of what we stood for in those days. It wasn't meant to be released outside of Japan. The Japanese said, 'Will you please make a live album?' We said, 'We don't make live albums; we don't believe in them.' We finally said okay, but said we wanted the rights to the tapes because we didn't want the album to be released outside of Japan. That album only cost about $3,000 to make. It sounded pretty good, so we said to Warner Bros., 'Do you want this?' They said, 'No, live albums don't happen.' They wound up putting it out anyway and it went platinum in about two weeks" – Jon Lord, Deep Purple
2014 will see the album newly remastered and released in a number of special formats. The format options include previously unseen footage on DVD, bonus material and mixes, memorabilia and a hardback book. The Made In Japan formats are listed below with full track listing following.
• Single CD – Newly remastered version of the original album.
• Deluxe Edition (2CD) – Remastered original album, plus second disc with previously unreleased encores from all three shows.
• Digital Download – Remastered original album and Deluxe Edition will both be available.
• Limited Edition Deluxe Boxed Set – this collection includes:
o Remastered audio of all three complete shows across 4 CDs
o DVD featuring rare documentary and live footage
o 7″ promo single
o 60 Page hard bound book filled with rare and previously unseen photos and memorabilia.
Made In Japan: Deluxe Edition Track Listing:
Disc One – Original Album Remastered (Osaka, August 16, 1972)
1. Highway Star
2. Smoke On The Water
3. Child In Time
4. The Mule (Drum Solo)
5. Strange King Of Woman
6. Lazy
7. Space Truckin'
Disc Two – Encores From All Three Nights
1. Black Night (Osaka, August 15th, 1972)
2. Speed King (Osaka, August 15th, 1972)
3. Black Night (Osaka, August 16th, 1972)
4. Lucille (Osaka, August 16th, 1972)
5. Black Night (Tokyo, August 17th, 1972)
6. Speed King (Osaka, August 17th, 1972)
Made In Japan: Limited Edition Deluxe Boxed Set track listing:
Disc One – Osaka, August 15th, 1972
1. Highway Star
2. Smoke On The Water
3. Child In Time
4. The Mule (Drum Solo)
5. Strange King Of Woman
6. Lazy
7. Space Truckin'
Disc Two – Osaka, August 16th, 1972
1. Highway Star
2. Smoke On The Water
3. Child In Time
4. The Mule (Drum Solo)
5. Strange King Of Woman
6. Lazy
7. Space Truckin'
Disc Three – Tokyo, August 17th, 1972
1. Highway Star
2. Smoke On The Water
3. Child In Time
4. The Mule (Drum Solo)
5. Strange King Of Woman
6. Lazy
7. Space Truckin'
Disc Four – Encores From All Three Nights
1. Black Night (Osaka, August 15th, 1972)
2. Speed King (Osaka, August 15th, 1972)
3. Black Night (Osaka, August 16th, 1972)
4. Lucille (Osaka, August 16th, 1972)
5. Black Night (Tokyo, August 17th, 1972)
6. Speed King (Osaka, August 17th, 1972)
Disc Five – DVD
Made in Japan – The Rise of Deep Purple MK II
Smoke On The Water (Official clip)
The Revolution
Germany 1972 (Small documentary piece from Boblingen Sporthalle Stuttgart -February 10th, 1972)
Smoke On the Water (Live clip from Hoftsra University – May 29th, 1973)