DEE SNIDER RECOUNTS MEETING BOTH BILLY JOEL AND RITCHIE BLACKMORE AT A PARTY, ONE WAS COOL AND THE OTHER…WELL…GUESS WHICH ONE WAS WHICH?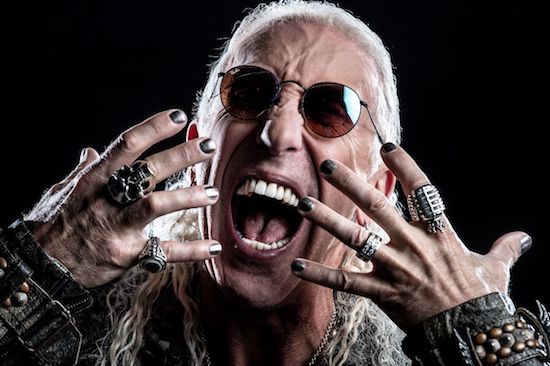 Ruben Mosqueda for KNAC.com spoke with Twisted Sister frontman Dee Snider, some excerpts from the interview appear below.
KNAC.com: You have a new album/Blu Ray that has a great balance of Twisted [Sister] and solo stuff. It's titled For The Love of Metal Live.
Dee Snider: That's right. My management thinks I'm Nostradamus or something because back in 2019, I told them that I wouldn't be doing any shows in 2020 [laughs] and that I would release a live album [laughs]. So now they're looking at me and asking, "What do you see for the stock market, Dee"? [laughs] Since I wasn't planning on doing any shows this year, we filmed last year's concerts. We're going from 'A' to 'B' with this record. We know what I did before For The Love of Metal and this live album and concert helps connect the dots when you hear it all played together. In all fairness, it is detuned. I also chose a lot of the songs that showed off Twisted's "metal" side.
When we started, people now know because they've seen our documentary We Are Twisted F–king Sister! The band had been together since 1973, by the early 80s when we were touring with Metallcia, [Iron] Maiden, Saxon, Motöhead…it wasn't called "hair metal" it was just "metal". No one thought anything about Twisted playing with Metallica. No one thought that it was strange, no one thought that Iron Maiden and Twisted playing together was strange, it was just a "metal" show. It wasn't until the late 80s that it was branded as "hair metal." Suddenly, there were a lot of these bands shown smiling and stuff. Then it was "happy metal," it was "happy metal" [laughs.] That's when the change happened. Twisted had a very "metallic" side. On For The Love of Metal Live I'm showing off my past and my present on this one.
KNAC.com What is your favorite social media platform and why?
Dee Snider: The one that I'm most active on is Twitter. It was my first one, I'm also on Facebook and Instagram and I have a loyal following on those too. Twitter would be my favorite I think, because it just has this ease of use. It's also got this immediacy of reaction. I liken it to back in the day when you were on the radio and you talked about something and you reacted, so the phones would light up. It's that immediacy of something that you said and it connected with people. I see a lot of that on Twitter, there's responses, there's likes and there's shares. I use Twitter as a rule, though I often wonder what I'm missing out on by not being as active on some of the other platforms.
KNAC.com: Who was the first celebrity that you ever met? What did you take from that encounter that helped you in engaging your fans down the road?
Dee Snider: Wow, what an interesting question. It had a "massive" effect on me, just "massive." Billy Joel. It was before Twisted made it, we were this local phenomenon, but Billy Joel was Billy Joel. It was at a party, I remember Ritchie Blackmore was there too. Ritchie Blackmore was so weird, standoffish, odd, he wouldn't look you in the eye, he was mumbly, he shook your hand like it was a wet fish. I wasn't famous then. Billy Joel was gracious, self deprecating and open. I remember there was one of the radio stations in New York City that was having a "subway campaign." I took one of the posters and brought it to the party because I knew he would be there. I presented it to him to sign, he looked at it and said, "I'm surprised somebody didn't draw a mustache on this"? [laughs] I said, "What"?! He said, "Oh, I would have definitely have drawn a mustache on this." [laughs] He changed me that day. I said to myself, "This is how I want to be around fans". When he walked away the general consensus was "Wow! What a cool guy." It was a huge contrast from when Blackmore walked away and everyone was like, "Wow! What a diiiiiiiiick." I knew what I wanted people to say when I walked away—what a cool guy. That experience changed me forever.
Read more at KNAC.com.
See I Am The Hurricane from, For The Love of Metal Live, here.
To read more about For The Love Of Metal Live, view the track list and configurations, plus see a video for Prove Me Wrong, please click here.