DEE SNIDER: "LOUDER THAN WORDS: ROCK, POWER AND POLITICS" EXHIBIT OPENS MAY 20TH AT ROCK & ROLL HALL OF FAME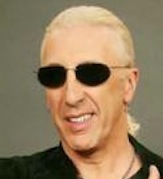 As Cleveland prepares for the 2016 Republican National Convention, the Rock & Roll Hall of Fame is opening a very timely exhibit around rock and politics. Louder Than Words: Rock, Power & Politics looks at some of the most important debates in our country through the lens of rock music.
The exhibit includes exclusive video interviews with Bono, David Byrne, Dee Snider, Tom Morello, Lars Ulrich, Gloria Estefan, Gregg Allman, Jimmy Carter, and others, and combines them with interactives, photography and never-before-seen artifacts to examine how music has both shaped and reflected our culture norms on eight political topics:
·Civil Rights
·LGBT Issues
·Feminism
·War & Peace
·Censorship
·Political Campaigns
·Political Causes
·International Politics
PNC presents Louder Than Words: Rock, Power & Politics– from Eisenhower through Obama – and uses historical context to shed insight into how we view these issues today. A continuously updated digital screen connects music's impact to some of the most pressing media issues of today, including Springsteen's cancellation of concerts in North Carolina following the signing of the Public Facilities Privacy & Security Act, the Arab Spring and the #BlackLivesMatter movement.
Twisted Sister frontman Dee Snider, who testified at the 1985 Parents Music Resource Center (PRMC) Senate Hearings on Censorship, will perform an acoustic version of We're Not Gonna Take It during the opening event on May 19th. Snider testified along with Frank Zappa and John Denver at the PRMC Hearings, which had the stated goal of increasing parental control over the access of children to music deemed to have violent, drug-related or sexual themes via labeling albums with Parent Advisory stickers. Snider's artifacts and stories are told in the exhibit including how Presidential candidate Donald Trump came to use We're Not Gonna Take It" as his campaign song.
Included in the exhibit are:
·Jimi Hendrix's Star Spangled Banner Fender Stratocaster from Woodstock
·John Lennon's acoustic guitar from the 1969 Montreal and Amsterdam "Bed-ins for Peace"
·Correspondence between the FBI and Priority Records regarding N.W.A's Fight the Power.
·Original handwritten lyrics from Bob Dylan's The Times They Are a-Changin', Chuck Berry's School Day, Neil Young's Ohio, Bruce Springsteen's Born in the U.S.A and Green Day's American Idiot
·Original Village People stage costumes
·Artifacts related to the Vietnam war, the May 4th, 1970 shooting at Kent State, the fall of the Berlin Wall, and the #BlackLivesMatter movement.
Curators from the Rock & Roll Hall of Fame and the Newseum worked with veteran music journalist, author and television producer Bill Flanagan (VH1 Storytellers, CMT Crossroads, CBS News Sunday Morning) to create this unique exhibition. It will open run May 20th through November 27th when the exhibit travels to the Newseum in Washington, D.C to open Jan. 13th, 2017, in time for the Presidential Inauguration.
More than 50 artists and political figures are featured in the exhibit, including:
·Beyoncé
·Bono
·Eric Clapton
·Bill Clinton
·George Clinton
·Sam Cooke
·Bob Dylan
·Melissa Etheridge
·Gloria Estefan
·Aretha Franklin
·Lady Gaga
·Green Day
·Jimi Hendrix
·Chrissie Hynde
·Alan Jackson
·Kendrick Lamar
·Cyndi Lauper
·Queen Latifah
·John Lennon
·Madonna
·Ministry
·Bob Marley
·Tom Morello
·N.W.A
·Yoko Ono
·Public Enemy
·Elvis Presley
·Keith Richards
·Pete Seeger
·Dee Snider
·Nina Simone
·Grace Slick
·Bruce Springsteen
·Rod Stewart
·Joe Strummer
·Village People
·Sid Vicious
·Ann Wilson
·Stevie Wonder
·Neil Young
·And more..
The Rock Hall will be doing themed programs about rock and politics for visitors all summer long, including a screening of Free to Rock: How Rock & Roll Helped End the Cold War on Wednesday, June 29th at 7 p.m. Visit rockhall.com for more information on upcoming events and programming.