DEE SNIDER EXPLAINS THAT HE WANTED TWISTED SISTER TO END "WHILE PEOPLE ARE STILL SMILING"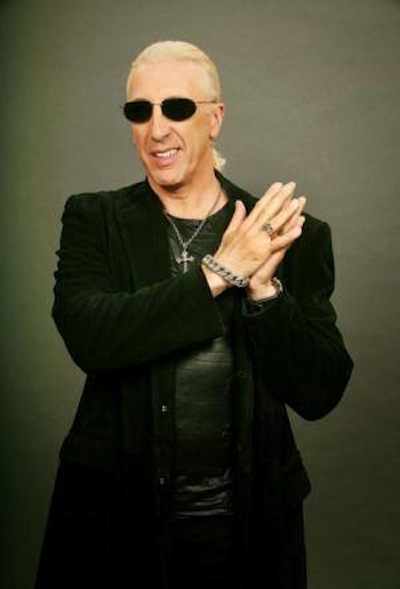 Singer Dee Snider was a guest on Eddie's SiriusXM show, Trunk Nation, on August 17th. Excerpts from the interview appear below (as transcribed by blabbermouth.net).
Discussing why Twisted Sister decided to call it quits last year after their fortieth-anniversary tour:
"Basically, the level of intensity that I performed at with Twisted Sister, I had to stop while I could still deliver that before I could no longer deliver that. The headbanging, the thrashing, all that energy… Where Alice [Cooper] always seemed like a crotchety old dude, and he's crawling around the stage, that works great for a 72-year-old dude now. But what I did does not work for a 62-year-old. I mean, it's just too f–king hard to stay in the shape. Just to keep that going just got harder and harder. I said, 'I wanna stop while people are still smiling and not looking at me saying, 'Oh, remember when he was good?'
Everything I'm doing now, there's no more headbanging involved. My neck just about had it. And with Twisted, I had to stop headbanging…At least I could say, 'Hey, I'm doing some new things, I'm trying some new things, and I'm not… I'm not in Twisted Sister. I'm Dee Snider now.' And people seem to be cool with it…"
Talking about how Twisted Sister's reunion after the 9/11 tragedy was partly inspired by another legendary band that he saw a couple of years earlier:
"…before Twisted Sister reunited, I saw UFO, so that was, like, 2000, 1999 when Michael Schenker was with them. And I was like a freakin' kid — I was fighting my way to the front; I felt like I was in high school again. They looked great, they played great. And I even followed them. I said [to my wife], 'We're gonna go to the next town to see 'em.' And she said, 'What are you, f–king sixteen?' I had to go see the next show, because they made me… So when Twisted reunited, I said, 'That's how I want people to feel.' I don't want them to look up there and go,' Damn! We've gotten old.'"
He added, ""I love the guys in Twisted — we're still friends and we ended on a great note. And I love those guys and the legacy. And with the release of [the] We Are Twisted F***ing Sister! [documentary about the band's early years], where people got to know the road, how hard we fought for where we got, I just felt it was a good time to end it."
Dee Snider'ds solo album, We Are The Ones, was released last October through Red River Records.