DAVID LEE ROTH DISCUSSES THE STATE OF VAN HALEN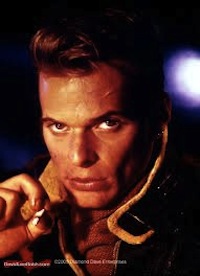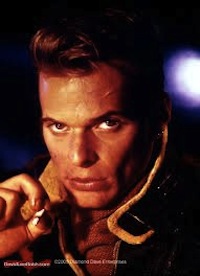 Steve Baltin of Rolling Stone spoke with Van Halen frontman David Lee Roth about that state of Van Halen, his new internet radio show and relocating to Japan. Excerpts from the interview appear below.
Q: What brought you to Tokyo?
A:  lifetime of growing up next to a Japanese neighborhood. First time I held a Japanese sword in my hand, I think I was nine years old, 10 years old. Here now I train four times a week with a fellow who's a professional instructor and I go to school every day of the week – I'm in school two and four hours variously in Japanese. I've never had an issue with changing my geography, perhaps to jolt my mind or my creative forces, or my fighting spirit. The first three months were challenging, I'm not gonna kid you. I came by myself and without knowing the language or anybody here, and cut to today, we have the Tokyo Dome show coming up, the Van Halen brothers and I, and I have more guests here than I had at Madison Square Garden. We sold out the Garden twice last February. I have close to 200 friends and family, all of them I know by first name, coming to each of the shows, so it's exploded. And creatively it has had a really resounding impact on me. I have an apartment and I've been here since last May, actually – wow. I love the United States. I have not given up my New York City apartment or my tomb with a view in Pasadena – I understand the sprinklers are all working perfectly. But I don't have any real plans anytime soon, until it's time to talk about The Roth Show, which, again, is an international flavor. We launched that about four months ago, but I broadcast from here and, the miracle of everything, we shoot the show here and wherever I go. And I'll be heading to New York, I'll do a month there.
Q: How will this experimental energy manifest in possible new Van Halen material?
A: I would certainly look forward to working with Ed on some new material, but we have yet to do that. Almost all of the music that you hear on our most recent album was written and demoed before the first album. And I would certainly look forward to writing a whole list of songs with Ed, but we haven't found the time to do that [laughs]. You hear the tone. I'm not sure what's in Ed's mind at this point. I'm gonna guess that his plans are to write with his son, and I'm not sure where that actually leads. But truth be told, Edward and I haven't written a new song in 20 years.
Q: The Tokyo dates are coming up. Will there be more after that?
A: There's nothing on the ticket as far as travel, and that's a disappointment, frankly. How long have I been back with the gang? Maybe six years, we'll say and we have yet to travel to Europe, South America, Japan, anywhere outside of those basic 50 cities in the United States. And again that's been a disappointment. We have an audience and we have a potential future in many, many places, but our story is one of a whole lotta Shakespeare going on. And I don't know where the Van Halen future lies aside from the States. We'll always be able to play our hits – and keep in mind we have more hits than Beethoven, we have more hits than Tony Soprano – so getting onstage and playing that is glorious, and certainly getting onstage with the brothers will always be an excitement for me. But in terms of taking the music past where we found it, I'm not sure where that's going to go.
And in the interim I've written and recorded an entire album of material with a fellow named John 5. It's called Somewhere Over the Rainbow Bar & Grill, and it was designed as a jukebox musical after seeing what the South Park fellows did. Those fellows are ardent Van Halen fans – they're been to Vegas and L.A. variously on the last tour. I saw the play [Book Of Mormon] and went home and we started putting together what I guess is called a jukebox musical, but it's not particular to Van Halen. Indeed we can create Van Halen material as the interstitials, but we have 15 songs ready to go, and it's my story. Indiana kid goes to the big city, sells his soul to the devil. Whatever Lola wants, Lola gets Dave. It's knockout stuff.
The Jump remix is part of an approach I wanted to take of, "What if we take a specific song and update it both in terms of time period and neighborhood, and you use that throughout the play?" The way Jump sounds originally is very different than the way it sounds on this latest version. You can turn it country, you can make it a very sad song. I was also thinking to take this material to one of our finer filmmakers and see if the whole package might be used. That being said, it's not heavy metal, and no, it's not dance music. It's R&B-based, a lot of B3 [organ] and a lot of girl-friendly . . . It's rock, but think early Rod Stewart, perhaps, arguably the best years, [or]  Tumbling Dice if you're thinking in terms of classic. So who knows where that's gonna go.
But Ed has his own vision, I'm assuming. We haven't really been able to speak about it and it's a disappointment, just as not having a chance for a reunion of the original band. Clearly, vocals are every bit as much a component of success as a rhythm section or a guitar solo, and there's an old expression saying, "They don't go home singing the lighting show, they don't go home singing the production." You're right, they sing my words and my melodies. And what we have at our fingertips is arguably one of the greatest high tenor voices ever – that was in Michael Anthony. In our tiny little corner of the universe, that voice is as identifiable as the high voice in Earth, Wind & Fire, as identifiable as the high voice in the Beach Boys. Van Halen is an indelicate house blend of both – that's intentionally. So I would always look forward to that reunion, and I would always look forward to writing a whole variety of material. I've offered the fellows, come on out here to the land of the gods. And if you don't want to make it that far we'll make it halfway – Konishiki [his friend and former champion sumo wrestler] has said he'll lend me his house in Hawaii, Let's go woodshed. But so far there hasn't been any response, so hope and faith are not actual tactics and strategies – they're strippers from Albuquerque.
Q: It will be very interesting to see what happens with all of these merging interests you have. You mentioned Coachella. Would we ever see Van Halen on that type of stage?
A: Alex and I have been begging to become part of that, and Glastonbury and Reading and Hyde Park. We keep being shuttled into the heavy metal world, and that's a very exclusive neighborhood, but here we are – we're back knocking on the doors begging for Bonnaroo and begging for Lollapalooza and Coachella, not even as an advancement of career, but there's a whole new audience who doesn't know and doesn't give a shit about Van Halen, and that's exactly the best audience to sharpen your spirit on. That will compel you to the very best that you have. I can't wait for those opportunities and wish us well. We've been asking for those shows since I've gotten back with the band six years ago, and I'll be very curious to see where we wind up come next season.
Read more at Rolling Stone.
source: www.rollingstone.com