D. D. VERNI &THE CADILLAC BAND SHARE "OLIVIA…THAT'S WHO!" THE SECOND SINGLE AND VIDEO FROM THEIR DEBUT ALBUM "LET'S RATTLE" OUT SEPTEMBER 17TH, BAND TO PERFORM FIRST-EVER LIVE SHOW OCTOBER 30TH IN NEW JERSEY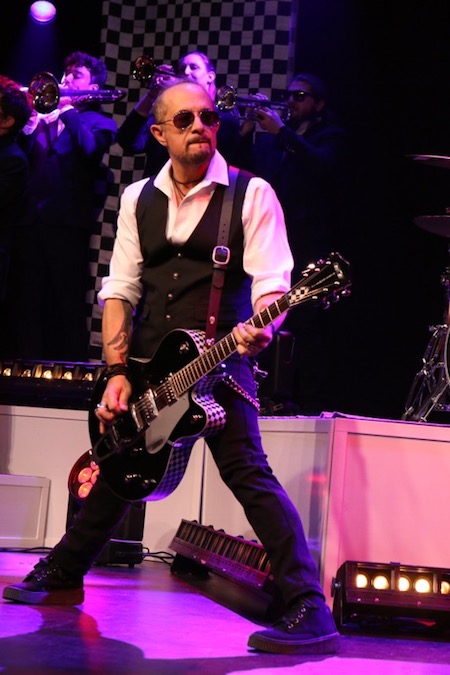 D.D. Verni & The Cadillac Band oday (August 18th) unveil Olivia…that's Who! the second single and video from their debut album Let's Rattle due out September 17th (through MVD). As with the album's lead single and video, Cadillac Man (see here), the new single underlines the high-energy original swingin' and rockin' big-band sound from D.D. Verni, the songwriter/founding member/bassist for heavy metal pioneers Overkill who've sold millions of records worldwide and have released 19 studio albums dating back to their 1985 debut album. Listen to the song, which D.D.wrote about his daughter Olivia, below. Pre-order the album here or pre-save the album here.
"While the song is about my daughter, I think it speaks to anyone who has a bubbly outgoing spirited girl in their life," says D.D. "It could be your mom, wife or girlfriend. And I think the drawings capture the spirit of the song. The song lyric says "There's always enough love to go round" and I think that's the spirit of the song and the drawings. It's about how a girl like that in your life can brighten your day and make things always seem OK."
Q: For the Olivia…That's Who! video, what inspired you to have a video created with storyboard illustrations?
A: That was actually my wife Lisa. She thought a storyboard following the lyrics etc. would be a cool idea for a video for that song. I had worked on many projects with an illustrator named Gery Nible for years and she suggested I call him. So I reached out and he was very excited about the idea. We went back and forth on a bunch of ideas and character development, what people should look like and the style/tone for it. I would get sketches from Gery and I would send to Lisa and she would send to Olivia hahaha…so it was a fun project to work on. I really liked her storyboard idea, where it felt more like sketches rather than finished inked and color drawings. I am a comic book fan, as well as Pixar/Disney animated film fan. I have a ton of collectable toys and such from movies, so this was great chance to do a little of that with my own song. I had done an animated video a few records back and had so much fun doing it and this one was similar. Fun to see it come to life.
Q: You've said that your second daughter Olivia told you: "'where's my song!' and then on her 16th birthday you wrote and recorded Olivia…That's Who! What does Olivia think of her song and the video (if she's seen it)?
A: She loves it. For years she would run around and tell people she has her own theme song. Now she has a video to go along with it.
To read more details about D.D. Verni & The Cadillac Band's forthcoming release, Let's Rattle, please go here.
Also, the band have confirmed their first-ever live show, on October 30th at the Vogel (Count Basie Center for the Arts) in Red Bank, NJ, the same venue where they filmed the video for Cadillac Man, the album's first single. Tickets are on sale now.