CHEAP TRICK TO CELEBRATE 35TH ANNIVERSARY OF "BUDOKAN" WITH SHOWS IN NYC AND L.A.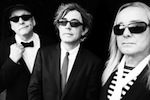 Cheap Trick will celebrate the 35th anniversary of their legendary Budokan, Japan performances with a pair of special concerts. The first show will be scheduled for April 28th at the John Varvatos Bowery boutique in New York City.
"I'm proud to host this momentous show for my friends Cheap Trick at my Bowery store which is celebrating its own 5th anniversary this month," says designer John Varvatos, a favorite among rockers like ZZ Top and Jimmy Page.
The second anniversary performance will happen on April 30th at the El Rey in Los Angeles, Calif. where the band will perform the exact April 30th, 1978 Budokan set. This show will air live nationally on AXS TV.
1978's Cheap Trick At Budokan is the album that catapulted the band to mainstream success with cuts like I Want You To Want Me and Ain't That a Shame finding a permanent home on American radio. The live album hit the #4 on the Billboard Top 200 and went triple platinum, and Rolling Stone has since called it one of the top 500 albums of all time.
additional source: noisecreep.com