CHARLIE BENANTE, JOHN 5, P.J. FARLEY AND JOE MCGINNESS COVER KISS' "MR. SPEED"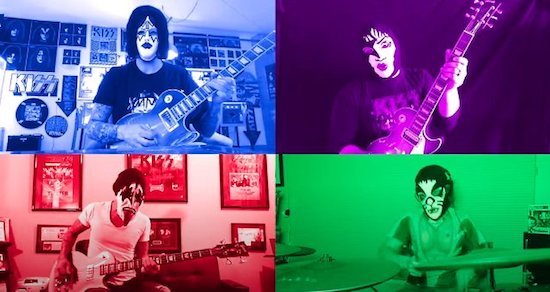 Anthrax drummer Charlie Benante has uploaded a video of himself, guitarist John 5, Trixter bassist P.J. Farley and Kuarantine guitarist Joe McGinness covering KISS song Mr. Speed
Benante writes to his YouTube channel, "This has always Been a favorite from the Grea Rock and Roll Over album. According to Paul: It's was written about having all the lines and know-how to pick up a woman quickly.
Here is a fun version of a KLASSIK song ! Thanks to John 5, PJ and Joe #paulstanley #genesimmons #petercriss #acefrehley #kissband #70skiss #kissalive #kissarmy @joe_mcginness_official @kissonline @pjfarley @Kuarantine_Official @john5official @anthrax.com @kissnyc @knightsinsatanservice #trixter @officialraband thanks to @dlevanchuk for the awesome edit.
To view the video, please click here.