CATHOUSE LIVE AT IRVINE MEADOWS ON AUGUST 15TH: ALL-STAR JAM, EXTREME, TOM KEIFER OF CINDERELLA, SEBASTIAN BACH, DOKKEN, FASTER PUSSYCAT & MORE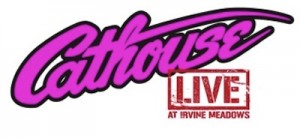 Riki Rachtman's World Famous Cathouse will return to Southern California for one night of debauchery with Cathouse Live At Irvine Meadows, Saturday, August 15th at Irvine Meadows Amphitheater (recently known as Verizon Wireless Amphitheatre) in Irvine, CA. Riki Rachtman created the original rock dance club that dominated the Hollywood scene from 1986-1993. Now, along with Live Nation and Synergy Global Entertainment (SGE), he's bringing Cathouse Live to a much larger audience with this decadent music and lifestyle festival.
The initial music lineup for Cathouse Live features some of the defining rock artists of the '80s and '90s, including an All-Star Jam, Extreme, Cinderella's Tom Keifer, Sebastian Bach, Dokken, Faster Pussycat, Stephen Pearcy (the voice of Ratt), Saigon Kick, Gilby Clarke, Dangerous Toys, L.A. Guns, Junkyard, Trixter, Autograph, Black 'N Blue, Tracii Guns, Enuff Z' Nuff, BulletBoys, Bang Tango, Jetboy, Pretty Boy Floyd, Tuff and Little Caesar.
Cathouse Live will feature band performances on two stages, VIP Meet and Greets, a vendor village, a chopper motorcycle show, tattoo shops, go-go dancers, and more.
"I recently started a Cathouse Hollywood Facebook page and everyone was asking 'Why don't you do another Cathouse?' I loved the idea and mentioned it on Twitter. So many bands told me that they wanted to be a part of it, that I knew that I had to bring it back on a much larger scale. It was too big for a club, so we decided to do a festival," Rachtman explains. "The music scene isn't what it was like back then–that type of decadence. We're going to bring the debauchery of the Cathouse back to Southern California! SoCal needs this kind of rock festival so people will have the chance to go out, have fun and enjoy a great rock show in all its excess. Cathouse was a very successful weekly nightclub for six years, so we're trying to pack all those years of Cathouse into one night for Cathouse Live. All I want is for those who go to have a good time and say, 'That was the BEST ROCK FESTIVAL EVER.'"
Tickets for Cathouse Live At Irvine Meadows go on sale Friday, May 15th at 10:00 AM PT at www.CathouseLive.com and start at just $15 plus fees.
Aptly named Nothin' But A Good Time, Youth Gone Wild, Nobody Rides For Free, and Riki's Big Package, the Cathouse is coming out of the gate with a handful of exclusive experiences and VIP opportunities to get a front row ticket, have a meet and greet and photo with the bands, be backstage in the dressing rooms, watch the show while standing on the main stage, and drink the night away in the Cathouse VIP lounge. All packages and experiences are available at www.CathouseLive.com while they last!
Stephen Pearcy of Ratt recalls, "I remember the Cathouse very well…used to go there when off the road with the RATT tours in the '80s. Anything and everything went down there. Great jams, good stories in my book about that place. Everybody was somebody or thought they were, and trashed. You knew you had a good time there when you couldn't remember what you did there the next day! Myself, Riki, Fred Coury, Tracii Guns, Taime and a couple others created a jam band called P.I.G. (Partners In Grime). We only did a few shows, got a bus, went out and had a great time. Places like the Cathouse will never happen again. Those were the dayz."
The original Hollywood Cathouse was known for its edgy, underground, dirty rock 'n' roll vibe that was rooted in punk. It reeked of raunch and pure decadence. Patrons would freely indulge. The DJ played rock 'n' roll between unannounced performances from bands like Guns N' Roses (Cathouse regulars who performed live at the club in 1986 just before their debut record was released), Sebastian Bach, Stephen Pearcy of Ratt, L.A. Guns, Faster Pussycat, Junkyard, Jetboy, Bang Tango, Saigon Kick, Black 'N Blue, Little Caesar, and many more. Guns N' Roses' video for It's So Easy was shot at the Cathouse, Alice Cooper played one Halloween, and when Ice-T was banned from every Los Angeles club, Riki invited his band Body Count to play Cathouse. "It wouldn't be uncommon to see Guns N' Roses one week and Alice In Chains the next–so many bands played before they were huge. It was also the kind of place where you'd find Robert Downey Jr. rubbing elbows with Aerosmith's Stephen Tyler," says Rachtman.
Cathouse was the place to discover the best rock 'n' roll. Ask anyone who ever went to Cathouse…they'll try to piece together what they remember about how legendary it was. With Cathouse Live At Irvine Meadows, the Cathouse is returning for those who lived the legend as it happened and those who are ready to experience this piece of rock 'n' roll history for the first time.
"Riki Rachtman is a great ambassador for a whole generation of hard rock," says Live Nation Executive Vice President Rich Best. "We're excited to partner with his iconic Cathouse brand to bring some of the biggest rock bands of the '80s and '90s together for this event. With over 20 bands that helped define an era with millions of records sold and dozens of hit songs, Cathouse Live at Irvine Meadows is a great value for fans."
Two lucky unsigned bands will have the chance to play at Cathouse Live at Irvine Meadows via the Cathouse Live Battle of the Bands, held Tuesday, July 14 at the infamous Whisky A Go-Go on the Sunset Strip in West Hollywood, CA. The grand prize winner will open the main stage and the runner up–as chosen by celebrity rock judges–will open the second stage at Cathouse Live. Bands can apply for a chance to play the Cathouse Live Battle of the Bands by emailing mproductionsrocks@gmail.com between May 12th and July 1st.
Los Angeles Times writer Kastle Waserman described Cathouse in her August 23rd, 2001 feature, noting: "On any given night, high-heeled, platinum blonds vied for attention on the dance floor. Aspiring rock musicians with impossibly teased hair crowded the bar and offered their standard pickup line: 'Come see my band play.' In VIP corners, rock notables mixed easily with Hollywood scenesters…Within weeks of its opening in the late 1980s, the Cathouse became 'world-famous,' L.A.'s place to be for rock 'n' roll kicks. A six-year run saw it evolve from a lightning-strike success into a legendary landmark…"
Don't miss this rare opportunity to re-live the Cathouse experience August 15th 2015 at Cathouse Live At Irvine Meadows.
Cathouse on the web:
Website
Facebook/a>
Twitter
Instagram
You Tube