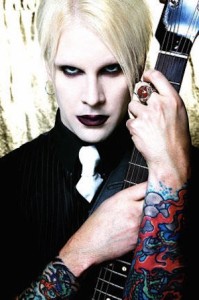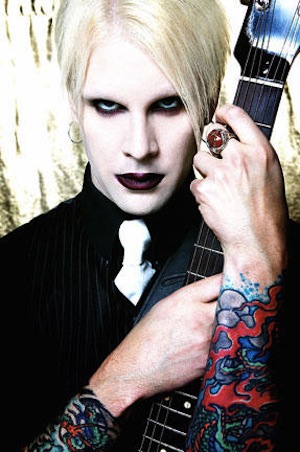 John 5 has been a busy artist this last year in between tours with Zombie and solo undertakings. John 5's extraordinary talent has led him to be an integral part of rock icon and auteur filmmaker Rob Zombie. This last year John 5 stepped up to fully to score Zombies upcoming movie release Lords Of Salem, and once again partnered with Zombie for the new album Venomous Rat Regeneration Vendor.
For his first time ever, John 5 scored his full length motion picture. "This was a huge challenge for me," explains John 5. "It was like 10 times the intensity of writing a record. It took months and months as the timing is key to each scene. The music was very challenging and sometimes there was no key signature or time signature for this music, which is all orchestral and acoustic with the exception of one Death Metal song. You had to be able to follow the story and create emotions for each scene with the music. I cannot wait for people to see and hear this movie. It is incredible!"
The Lords of Salem tells the tale of Heidi (Sheri Moon Zombie), a radio station DJ living in Salem, Massachusetts, who receives a strange wooden box containing a record, a "gift from the Lords." Heidi listens, and the bizarre sounds within the grooves immediately trigger flashbacks of the town's violent past. Is Heidi going mad, or are the "Lords of Salem" returning for revenge on modern-day Salem?
John 5, in full collaboration with Zombie, created Venomous Rat Regeneration Vendor, which will be released on April 23rd, and includes the first single, Dead City Radio and the New Gods of Super Town, along with such tracks as Ging Gang Gong De Do Gong De Laga Raga, Lucifer Rising, Behold! The Pretty Filthy Creatures and a heavy-duty cover of Grand Funk Railroad's We're an American Band.
"I can only describe this album as an aggressive, live-sounding and totally unique album," states John 5. "This album has a little bit for everybody. The guitar tones are not traditional. There is also an instrumental track called the Theme for the Rat Regeneration Vendor which is a all played aggressively with an electric sitar."
Last year, in addition to working on all of these music projects and recording, John 5 dominated the touring world in 2012, blowing away audiences with his guitar mastery on the road with Megadeth, then with Marilyn Manson for the Twins of Evil Tour.