CARMINE APPICE'S ROCKAHOLICS METAL FAN CAMP TO BE HELD AUGUST 26TH-30TH IN UPSTATE NEW YORK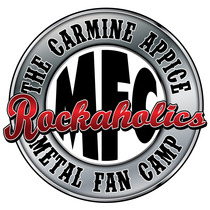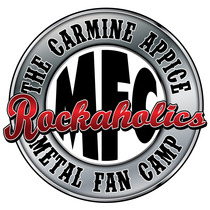 Legendary drummer Carmine Appice has a busy schedule of activities leading up to the first Carmine Appice's Rockaholics Metal Fan Camp, held August 26th-30th at Full Moon Resort in the heart of the "Forever Wild" Catskill Forest Preserve, just one half hour west of Woodstock, New York.
Carmine Appice is known not only as a heavy metal progenitor for his visionary work with Vanilla Fudge (and later Cactus, the power trio Beck, Bogert & Appice, Rod Stewart, King Kobra, and others), but also as a tireless drum evangelist and educator through both his best-selling Realistic Rock Drum Method and decades of clinics. Rockaholics Metal Fan Camp is not so much a forum for preaching and teaching as an opportunity for shared social experience.
At the Rockaholics Metal Fan Camp, Carmine will be joined by "camp counselors" including singer/guitarist Eric Bloom (Blue Öyster Cult), drummer James Kottak (Scorpions), guitarist Eddie Ojeda (Twisted Sister), and renowned shredder Michael Angelo Batio.
Carmine has a variety of TV, radio and live appearances scheduled leading up to the Rockaholics camp. Carmine will be the featured guest musician on VH1's That Metal Show for the episode airing June 1st and again June 29th at 11:00 PM Eastern/Pacific. He'll hit the road with the legendary and groundbreaking Vanilla Fudge from June 6th-22nd. Carmine will be a featured guest on the nationally syndicated radio show Eddie Trunk Rocks on June 21st. From June 27th-29th, Carmine will tour with Drum Wars, the world's premiere rock drum show, featuring brothers Carmine and Vinny Appice (John Lennon, Black Sabbath, Dio, Heaven & Hell) demonstrating their sensational drumming abilities in this entertaining no-holds-barred battle to the finish. Please see below for a full tour itinerary.
July will find Carmine busy promoting his band King Kobra who will release their II studio album July 5th in Europe and July 9th in North America through Frontier Records. The group features drummer and founding member Carmine Appice, along with vocalist Paul Shortino, dual guitarists Mick Sweda and David Michael-Philips, and bassist Johnny Rod.
Then from August 26th-30th, Carmine will be found at the Rocklaholics Metal Fan Camp at Full Moon Resort. Rockaholics camp sessions will feature road warrior stories, musical performances by individual artists, Q&As, and more-ending with nightly jam sessions featuring the camp's celebrity counselors. Also planned is the Carmine Cookoff, inspired by his Cooking With Carmine segment which can be viewed here. Additional details about the daily schedule will be announced soon.
Carmine Appice's Rockaholics Metal Fan Camp offers a variety of pricing options, based on the variety of available accommodations. Packages are on sale now at carmineappicefancamp.com/pricing, and start at just $795, including lodging, access to all gourmet meals, performances, and camp activities.
All activities will be held at Full Moon Resort in Big Indian, NY, which features an eclectic array of comfortable, rustic country-inn accommodations as well as tent camping. All accommodations are just steps away from daily camp activities. Guests can enjoy the spring-fed swimming pool, on-site access to the Esopus Creek, and explore the splendors of the Catskills on the nearby network of hiking trails. Dedicated to the celebration of nature, music and the arts, this one hundred-acre wonderland of mountains, fields, and streams is a world of its own.
Carmine's tour itinerary is as follows:
Date City Venue
Vanilla Fudge:
June 6th Englewood, NJ Bergen PAC
June 9th Sellersville, PA Sellersville Theater
June 14th Shirley, MA The Bull Run
June 21st & 22nd New York, NY BB King Blues
Drum Wars:
June 27th Sellersville , PA Sellersville Theater
June 28th Bay Shore, NY Boulton Center
June 29th Chester, NY The Castle Event Center
Rockaholics Metal Fan Camp:
August 26th-30th Big Indian, NY Full Moon Resort