BUCKCHERRY CELEBRATES TENTH ANNIVERSARY OF "15" WITH HEADLINING NORTH AMERICAN TOUR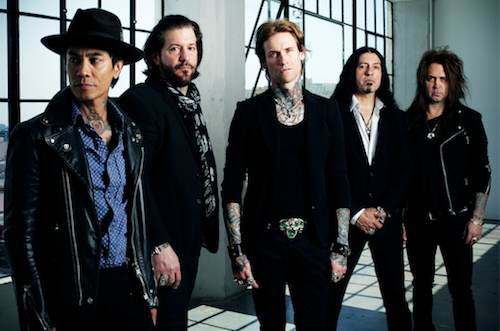 Veteran L.A. rock band Buckcherry are celebrating the tenth anniversary of their smash, hit record 15 and have announced a headlining North American tour where they'll be performing the record in its entirety with support from Candlebox and Sons of Texas on select dates.
In addition to the tour announcement, Buckcherry will be celebrating the anniversary by releasing a Deluxe CD Edition of 15 and, for the first time ever, a vinyl release of 15 this fall. The band has launched a PledgeMusic campaign this summer for the celebration, which will feature exciting, exclusive content, pre-orders for the Deluxe Edition, Vinyl and much more.
Buckcherry's seminal record 15 was released in April 2006 and included breakout radio anthems Crazy Bitch and Sorry. The album was a turning point for the band following a breakup after the release of their second album Time Bomb, and featured a reinvigorated lineup with three new members. The single Crazy Bitch exploded onto charts and radio stations becoming the rock anthem of the summer, and was nominated for Best Hard Rock Performance at the 49th Annual Grammy Awards. It was followed with the successful single Sorry, which peaked at #2 on Hot AC radio charts and #8 at Top 40 radio charts. To date, 15 has sold over 1 million copies, becoming the band's first platinum record.
Guitarist Keith Nelson says, "15…. We named it that because we recorded it in 15 days. I'm proud of every record we've done, but 15 is special. We had nothing to lose and the world to gain. We bet on ourselves and won. It was a 'thank you' and a 'f–k you' at the same time. And it still is. I can't wait to perform this record in its entirety for its 10th Anniversary."
Adds singer Josh Todd, "15 was a very special moment in time for this band. A lot of people told us what we 'couldn't do' and all we collectively thought about is what we 'could do' and how big it would be. Success is the best revenge and that is why we are bringing this entire record to the stage to celebrate the ten year anniversary of 15, one of the coolest rock n' roll comeback stories of all time."
In celebration of the anniversary of 15, Spotify has added Crazy Bitch to popular playlists like Rock the 2000's and Headbanger's Workout, while Sorry was added to Rock Ballads.
Buckcherry is also touring in support of their most recent record Rock 'N' Roll, which was released in late 2015. Fans can purchase the record now by clicking here.
Follow the band at facebook.com/buckcherry for additional news and updates.
Newly Announced Buckcherry Tour Dates:
*More dates to be announced soon!
Sept 2 Royal Oak, MI – Main Stage at the Royal Oaks Arts
Sept 3 Mt. Pleasant, MI – Soaring Eagle Casino (w/ Shinedown, Pop Evil)
Sept 4 West Hollywood, CA – Rainbow Bar & Grill Block Party
Sept 9 Las Vegas, NV – Larry Flynt's Hustler Club (15 Anniversary Show, Buckcherry only)
Sept 14 St. Charles, IL – The Arcada Theatre (15 Anniversary Show w/ Candlebox, Sons of Texas)
Sept 17 Chester, PA – Rock Allegiance Festival
Sept 18 Lawrence, MA – Claddagh Music Hall (15 Anniversary Show w/ Candlebox, Sons of Texas)
Sept 20 New York, NY – Playstation Theater (15 Anniversary Show w/ Candlebox, Sons of Texas)
Sept 21 Huntington, NY – The Paramount (15 Anniversary Show w/ Candlebox, Sons of Texas)
Sept 24 Houston, TX – Houston Open Air Festival
Sept 30 Cabazon, CA – Key Club @ Morongo (15 Anniversary Show, Buckcherry only)
Oct 4 Anaheim, CA – The Grove (15 Anniversary Show w/ Candlebox, Sons of Texas)
Tour Dates On-sale now:
July 15 Oklahoma, OK – Diamond Ballroom (w/ Nonpoint, Failure Anthem)
July 16 Mansfield, TX – Fat Daddy's (w/ Nonpoint, Failure Anthem)
July 17 Monroe, LA – Live Oaks Bar & Ballroom (w/ Nonpoint, Failure Anthem)
July 19 Greensboro, NC – The Cone Denim Ent Center (w/ Nonpoint, Failure Anthem)
July 20 North Myrtle Beach, SC – House of Blues (w/ Nonpoint, Failure Anthem)
July 22 Dewey Beach, DE – The Bottle & Cork (w/ Nonpoint, Failure Anthem)
July 23 Sharon, PA – Quaker Steak & Lube (w/ Nonpoint, Failure Anthem)
July 24 Baltimore, MD – Rams Head Live! (w/ Nonpoint, Failure Anthem)
July 26 Jacksonville, NC – Hooligans (w/ Nonpoint, Failure Anthem)
July 28 Lynchburg, VA – Phase 2 (w/ Nonpoint, Failure Anthem)
July 29 Morgantown, WV – Mountainfest Motorcycle Rally
July 30 Royalton, MN – Halfway Jam Festival Grounds
Aug 12 Sturgis, SD – Buffalo Chip Campground
Aug 13 Bozeman, MT – Rockin The Rivers Fest
Aug 14 Mandan, ND – Rock Point
Aug 19 Barrie, ON – The Ranch Concert Hall
Aug 25 Fairbanks, AK – Carlson Center
Aug 26 Anchorage, AK – Alaska Airlines Center
Aug 27 Soldotna, AK – Sport Center in Soldotna
Oct 12 Belfast, UK – Limelight
Oct 13 Dublin, IRE – Whelans
Oct 15 London, UK – Wembley Arena (w/ Steel Panther, Bowling For Soup)
Oct 16 Cardiff, UK – Cardiff Motorpoint Arena (w/ Steel Panther, Bowling For Soup)
Oct 18 Manchester, UK – Manchester Arena (w/ Steel Panther, Bowling For Soup)
Oct 19 Birmingham, UK – Barclaycard Arena(w/ Steel Panther, Bowling For Soup)
Buckcherry on the web:
buckcherry.com
facebook.com/buckcherry
twitter.com/Buckcherry