BROTHER CANE CELEBRATES 30TH ANNIVERSARY WITH REISSUE OF SELF-TITLED DEBUT ALBUM AND RELEASES TWO NEW SONGS ON 7″, OUT TODAY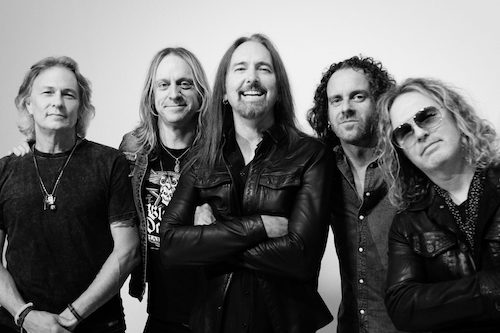 Brother Cane are commemorating their 30th Anniversary with a reissue of their critically acclaimed 1993 self-titled debut album, making it available on vinyl for the first time. In addition, the band went back into the studio with longtime collaborator and multi-platinum producer Marti Frederiksen and recorded two brand new songs. Blinded By the Sun and Are You In There Anymore, also available digitally today as well as an exclusive physical 7" vinyl. You can listen to both here.
A U.S. tour celebrating the bands history and new music is set to begin October 26th in Woodstock, GA continuing through December 2nd in Memphis, TN. More dates are expected to be announced soon, see below for the initial itinerary and full details.
Founding member Damon Johnson shared recently, "The new music is what is exciting me most out of all the good stuff happening, I LOVE these two new songs and can't wait to play them live." He continues, expounding on the reunion , "It was our manager, Kevin, who suggested we do this now after hearing from fans at my other shows who kept asking 'when is Brother Cane coming back?' Well we're BACK."
Co-founding member, Glenn Maxey echoes the same sentiment, "Seldom does a person get the chance to relive a dream that they pursued in their twenties. It's hard to put into words. I'm just extremely grateful for the chance to play great music with great friends at this time in my life. Let's go."
At the heart of Brother Cane's long-awaited return to the stage are its founding members, Johnson (lead vocals, guitar) and Maxey (bass) who originally formed the band in 1991 in their hometown of Birmingham, AL. Johnson's distinctive guitar skills, vocals, and captivating stage presence, combined with Maxey's solid bass lines and rhythmic foundation, formed the core of the band's signature sound. Brother Cane found immediate success with the release of their self-titled debut album which delivered three singles: Got No Shame, That Don't Satisfy Me (listen below), and Hard Act to Follow with Got No Shame reaching number one on the Mainstream Rock charts earning the band U.S. tours with Aerosmith, Robert Plant and Lynyrd Skynyrd.
This highly anticipated tour promises to deliver an unforgettable experience, as they take audiences on a nostalgic journey through their extensive catalog while also introducing some exciting new material. Joining the duo for this reunion are longtime friends and fellow bandmates Jarred Pope (drums/Tom Keifer Band), Buck Johnson (keys/Aerosmith, Hollywood Vampires), and Tony Higbee (guitar/Tom Keifer Band). Stone Horses will support on all dates with Orianthi joining on select dates.
Full itinerary is below.
Brother Cane Reunion Tour w/ Stone Horses:
October 26 – Madlife Music Stage, Woodstock, GA *
October 27 – Mars Music Hall, Huntsville, AL *
November 1 – The Tin Pan, Richmond, VA
November 2 – Rams Head on Stage, Annapolis, MD
November 3 – Tally Ho, Leesburg, VA
November 4 – Mickey's Black Box, Lititz, PA
November 5 – Sony Hall, New York, NY
November 7 – The Winchester, Cleveland, OH
November 8 – Madison Live, Covington, KY
November 9 – Wildly, Edwardsville, IL
November 10 – King of Clubs, Columbus, OH **
November 11 – Jergel's Rhythm Grille, Warrendale, PA **
November 12 – Dunellen Theater, Dunellen, NJ
November 16 – Castle Theater, Bloomington, IL
November 17 – The Token Lounge, Westland, MI **
November 18 – Arcada Theatre, St. Charles, IL **
November 29 – The Concourse, Knoxville, TN
November 30 – Barrelhouse Ballroom, Chattanooga, TN
December 1 – Exit IN, Nashville, TN
December 2 – Minglewood, Hall, Memphis, TN
*Brother Cane only
** Plus Orianthi
For show and ticket info, visit brothercane.com.
Other ways to connect with Brother Cane: Facebook, Instagram, Twitter and Band In Town.
[Dana's note: Since I really like the song, That Don't Satisfy Me, I have linked it below]