BLUE OŸSTER CULT'S BUCK DHARMA DISCUSSES THE BAND'S NEW CD/DVD "HARD ROCK LIVE CLEVELAND 2014," AND THE AUTHENTICITY OF LIVE RECORDINGS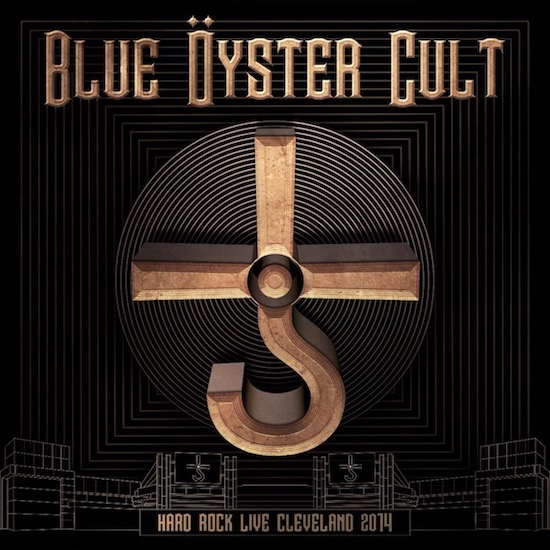 Greg Prato of Bravewords spoke with Blue Öyster Cult singer-guitarist, Buck Dharma, about their double CD/DVD set, Hard Rock Live Cleveland 2014, which Prato claims is "a truly LIVE recording (devoid of any post-recording doctoring)."
BraveWords: What made the band decide to release Hard Rock Live Cleveland 2014 now – five years after it was recorded?
Buck Dharma: What happened was we inherited the rights to those video concerts – which were originally done by the cable providers. So, there was a time lag there. Also, we had gone back and edited some of them. As far as content, there is something new to enjoy about it.
BraveWords: Is it entirely live, or were there overdubs added after?
Buck Dharma: No, actually – it's exactly the way it was.
BraveWords: With BÖC's earlier live albums – On Your Feet Or OnYour Knees, Some Enchanted Evening, and Extraterrestrial Live – do you recall if there was some overdubs?
Buck Dharma: No. The only "massaging" that was done was I think they added some extra applause sometimes – because there wasn't a good recording of the audience. We never like, went back and completely played it again.
BraveWords: That's good to hear, because I know that quite a few classic rock bands from the '70s have since admitted that they went back and re-recorded parts on their live albums.
Buck Dharma: Sometimes if there's a mistake or something, people would fix it. Or if you couldn't hear what you were singing, and you sang off, and otherwise if it was good you might do that. But we never had to.
BraveWords: What was it about the '70s and classic live albums?
Buck Dharma: Well, the bands were good – for one. In that album era, everybody were often better live than on the studio recordings. I think that happened with BÖC – our first gold record was a live record [On Your Feet Or On Your Knees]. And of course, Peter Frampton's career exploded with his live record [Frampton Comes Alive]. So, I just think the bands of that era were real strong performers live, and people wanted to hear it. I'll contrast that with some other pop artists, which when they play live, they're basically playing to tracks that they recorded, and they're dancing around. They're just dancing around to their studio records.
BraveWords: What do you think of current rock acts that use backing tracks live?
Buck Dharma: I think there's some value in playing some of the production they use that can't be readily duplicated live. But I prefer to play in the moment. One of the reasons why I still go out there and do shows is that it's different every night. It's never the same. The leads are different, the vibes of the songs change. The arrangements are basically the arrangements, but there is a lot of improvisation that goes on – that makes it interesting and rewarding to do. And continue to do.
Read more at BraveWords.