BLS ANNOUNCES "UNBLACKENED": A UNIQUE ONE-NIGHT-ONLY ENGAGEMENT AT L.A.'S CLUB NOKIA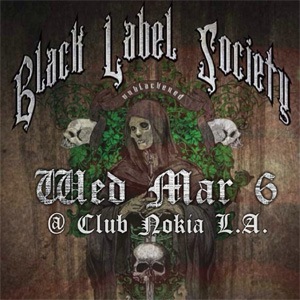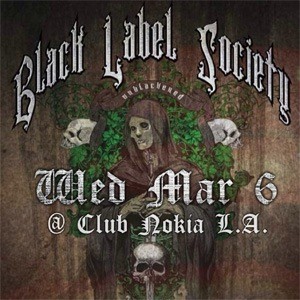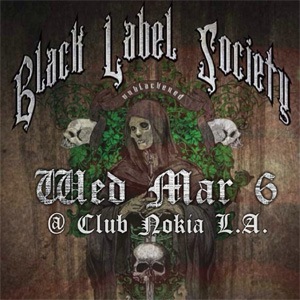 Black Label Society, fronted by guitar icon Zakk Wylde, have announced Unblackened, a one night only concert at Club Nokia in Los Angeles on Wednesday, March 6th at 9:00pm. The show will feature intimate versions of some of the band's most popular songs, as well as songs from Wylde's best-selling solo album Book of Shadows and Southern rock band Pride & Glory. The show will feature Wylde on guitar and piano, alongside the members of Black Label Society, as well as a four-piece string section, pedal steel, and special guests. The concert will be broadcast live exclusively on AXS TV. A CD/DVD will be released later this year.
"This is something we haven't done yet, and we wanted to give our fans something new," said Wylde. "You can take a song that you've played thousands of times and rearrange it, and all of a sudden it's something totally fresh. The attitude of the songs doesn't change when we play them acoustically–the tunes are gritty regardless."
On August 10th, 2010 Black Label Society released their eighth studio album, Order Of The Black, which entered the Billboard 200 at No. 4. The release featured two singles, Parade Of The Dead and Crazy Horse. The band then released their ninth studio album, The Song Remains Not The Same, in May 2011, which was a compilation album featuring new, acoustic versions of songs originally released on Order Of The Black. The album reached No. 41 on the Billboard 200.
In the two decades since Ozzy Osbourne hired him away from his job at a New Jersey gas station to become his new guitarist, Zakk Wylde has established himself as a guitar icon known and revered the world over, winning nearly every guitar award imaginable, and becoming a major influence on a new battalion of rock guitarists popular today. Writing and recording with Osbourne led to multi-platinum success, which inspired him to create the now legendary Black Label Society (BLS) in 1998. Black Label Society members include Zakk Wylde (lead guitar, lead vocals), Nick Cantanese (rhythm guitar), John DeServio (bass), and Chad Szeliga (drums).
For more information on Black Label Society, please visit blacklabelsociety.com.