BLACK STAR RIDERS RELEASE TRAILERS FOR THIRD ALBUM, "HEAVY FIRE"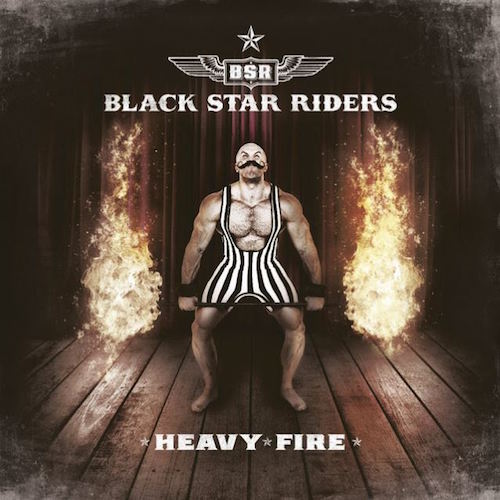 Following the recent announcement of their third studio album, Heavy Fire, Black Star Riders have released a two video trailers in which Damon Johnson, Ricky Warwick and Scott Gorham discuss the band developing their own sound beyond the Thin Lizzy legacy.
Heavy Fire is set for release via Nuclear Blast Entertainment on February 3rd, 2017.
Scott Gotham comments, "We're absolutely finding our own sound. We'd been on a run with Thin Lizzy for five years, so it's gonna always take a little while to find your feet with a new sound. But, everybody is an individual here and individually we all write differently anyway so you are going to come up with a different sound eventually. Which is what I think we've done with this album"
Watch a lyric video for the song, When The Night Comes, here.
Heavy Fire is now available for pre-order at the following outlets:
Nuclear Blast Shop
iTunes
Amazon MP3
Google Play
Heavy Fire Track listing:
1. Heavy Fire
2. When The Night Comes In
3. Dancing With The Wrong Girl
4. Who Rides The Tiger
5. Cold War Love
6. Testify Or Say Goodbye
7. Thinking About You Could Get Me Killed
8. True Blue Kid
9. Ticket To Rise
10. Letting Go Of Me
The Limited Edition Digibook CD will have above Track listing plus
Bonus Track:
11. Fade
Limited Edition Gatefold Vinyl Limited Edition Picture Disc
Side One:
1. Heavy Fire
2. When The Night Comes In
3. Dancing With The Wrong Girl
4. Who Rides The Tiger
5. Cold War Love
Side Two:
1. Testify Or Say Goodbye
2. Thinking About You Could Get Me Killed
3. True Blue Kid
4. Ticket To Rise
5. Letting Go Of Me
For more information, please visit: