BLACK STAR RIDERS BASSIST ROBBIE CRANE TO JOIN HOOKERS & BLOW FOR SUMMER TOUR WITH THE DEAD DAISIES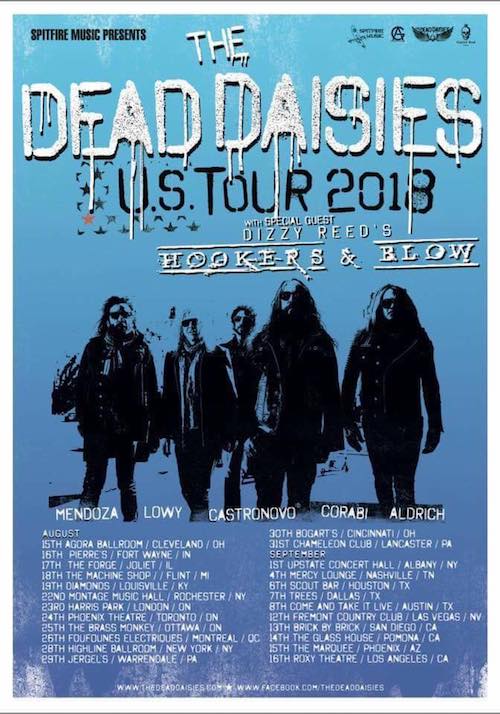 Hookers & Blow, a project formed by longtime Guns N' Roses keyboardist Dizzy Reed and Quiet Riot guitarist Alex Grossi is celebrating it's 15-year anniversary and is excited to welcome longtime friend Robbie Crane (Black Star Riders) on bass for their upcoming North American tour supporting The Dead Daisies. The twenty-five city tour will begin on August 15th in Cleveland, OH.
"We are really excited to have Robbie joining us this summer, says guitarist Grossi. "He is not only a great player, but probably one of the funniest guys we have ever met"
Most recently, Dizzy Reed has released his very first solo record Rock & Roll Ain't Easy, featuring members of Guns N' Roses, No Doubt, Quiet Riot, W.A.S.P., The Psychedelic Furs, Thin Lizzy and many more.
The Dead Daisies are currently on the final leg of their European Burn It Down tour where they just shot a music video for the band's next single Dead And Gone at Black Box Music.
The Dead Daisies are:
Doug Aldrich (Whitesnake, Dio) – Guitar
John Corabi (Motley Crue, The Scream) – Vocals
Marco Mendoza (Whitesnake, Thin Lizzy) – Bass
David Lowy (Red Phoenix, Mink) – Guitar
Deen Castronovo (Bad English, Journey) – Drums
The Dead Daisies/Hookers & Blow – 2018 North American tour dates:
Aug. 15 – Cleveland, OH – Agora Ballroom
Aug. 16 – Fort Wayne, IN – Piere's
Aug. 17 – Joliet, IL – The Forge
Aug. 18 – Flint, MI – The Machine Shop
Aug. 19 – Louisville, KY – Diamonds
Aug. 22 – Rochester, NY – Montage Music Hall
Aug. 23 – London, ON – Harris Park
Aug. 24 – Toronto, ON – Phoenix Theatre
Aug. 25 – Ottawa, ON – The Brass Monkey
Aug. 26 – Montreal, QC – Foufounes Electriques
Aug. 28 – New York, NY – Highline Ballroom
Aug. 29 – Warrendale, PA – Jergel's
Aug. 30 – Cincinnati, OH – Bogart's
Aug. 31 – Lancaster, PA – Chameleon Club
Sep. 1 – Albany, NY – Upstate Concert Hall
Sep. 4 – Nashville, TN – Mercy Lounge
Sep. 6 – Houston, TX – Scout Bar
Sep. 7 – Dallas, TX – Trees
Sep. 8 – Austin, TX – Come and Take It Live
Sep. 12 – Las Vegas, NV – Fremont Country Club
Sep. 13 – San Diego, CA – Brick by Brick
Sep. 14 – Pomona, CA – The Glass House
Sep. 16 – Los Angeles, CA – Roxy Theater
For more information, please visit facebook.com/HNBMerch.