BLACK SABBATH'S "LIVE EVIL" TO BE RE-RELEASED AS 40TH-ANNIVERSARY SUPER DELUXE EDITION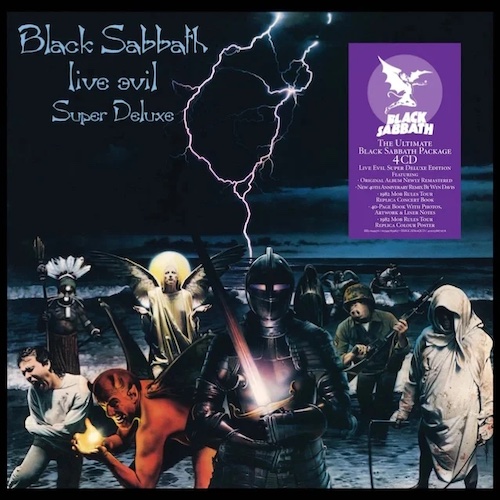 BMG has set a June 2nd release date for the 40th-anniversary super deluxe edition of Black Sabbath's Live Evil.
This new edition of Live Evil was remixed by Wyn Davis and remastered for the 40th anniversary and includes a 1982 The Mob Rules tour replica hardback concert book, a 40-page book with photos, artwork and liner notes and a 1982 The Mob Rules tour replica color poster. It will be available as a 4CD and 4LP set.
This iconic collection captures the raw energy and heavy metal mastery of the Sabbath lineup of the lineup of Ronnie James Dio (vocals),Tony Iommi (guitar),Geezer Butler (bass) and Vinny Appice (drums),with classic tracks like War Pigs, Iron Man and Paranoid among the highlights.
Black Sabbath, one of the most prominent and influential faces of the 1970s rock topography were, by the decade's end, a band in disarray. Once the masters of their own reality, the Birmingham four-piece were now battle-weary veterans, wearing the deep scars of a near-ten-year album-tour-album cycle. Black Sabbath's then-latest album, Never Say Die!, released in September 1978, would transpire to be their final studio recording with Ozzy Osbourne, who in less than a year, would no longer be with the band.
The loss of the iconic voice might have signaled the end of the band. But, that wasn't to be the case…
Dio, Rainbow's founding lead vocalist whose lion's roar had taken the band to gold and platinum status, also parted company with the Ritchie Blackmore-led outfit. Several phone calls later and a chance meeting in, of all places, the Rainbow Bar & Grill on Sunset Boulevard in West Hollywood, Iommi invited Dioto join the remaining members of Black Sabbath for an impromptu rehearsal. Within fifteen minutes and one brand new song later (Children Of The Sea),a new era of Black Sabbath was born.
The resultant album releases over the next few years proved without question, that this match was one without peer and succeeded without question in carrying the name of Black Sabbath (later with Appice replacing Bill Ward on drums) proudly into the new decade. With an accompanying soundtrack featuring some of the most exciting and dramatic heavy metal to ever grace a studio or stage, Black Sabbath rose once more to a place of highest regard within elite rock circles.
Such was the chemistry between these players, that two reformations of this Black Sabbath lineup have since been made, the second of which, starting in 2007 and ending with Dio's death in 2010, went under the title of that first ground-breaking album, Heaven And Hell.
1982's Live Evil caught a band at the height of its powers.
Live Evil super deluxe edition track listing:
CD1: 2023 Remaster:
1. E5150 (Live)
2. Neon Knights (Live)
3. N.I.B. (Live)
4. Children Of The Sea (Live)
5. Voodoo (Live)
6. Black Sabbath (Live)
7. War Pigs (2023 Remaster)
8. Iron Man (Live)
CD2: 2023 Remaster:
1. The Mob Rules (Live)
2. Heaven And Hell (Live)
3. The Sign Of The Southern Cross / Heaven And Hell (Continued) (Live)
4. Paranoid (Live)
5. Children Of The Grave (Live)
6. Fluff (Live)
CD3: 2023 Remix:
1. E5150 (Live In Seattle, April 24th, 1982)
2. Neon Knights (Live In Seattle, April 24th, 1982)
3. N.I.B. (Live In San Antonio, May 13th, 1982)
4. Children Of The Sea (Live In San Antonio, May 13th, 1982)
5. Voodoo (Live In San Antonio, May 13th, 1982)
6. Black Sabbath (Live In Dallas, May 12th, 1982)
7. War Pigs / Drum Solo (Live In San Antonio, May 13th, 1982)
8. Iron Man (Live In San Antonio, May 13th, 1982)
CD4: 2023 Remix:
1. The Mob Rules (Live In Seattle, April 24th, 1982)
2. Heaven And Hell (Live In San Antonio, May 13th, 1982)
3. The Sign Of The Southern Cross / Heaven And Hell (Continued) (Live In San Antonio, May 13th, 1982)
4. Paranoid (Live In San Antonio, May 13th, 1982)
5. Children Of The Grave (Live In Fresno, April 18th, 1982)
6. Fluff (Live In Fresno, April 18th, 1982)