BLACK SABBATH WIN "BEST METAL PERFORMANCE" GRAMMY® AWARD For "GOD IS DEAD?"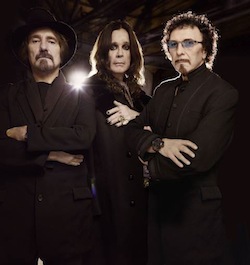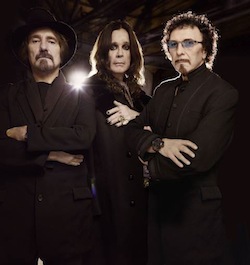 Black Sabbath added another Grammy® Award to their collection last night (Sunday, January 26th) with a win in the Best Metal Performance category for God Is Dead? The song was the first release from the icon band's 2013 critically acclaimed 13 album (Vertigo/Republic), which entered the charts at #1 in 13 countries. The band's previous Grammy win was in 2000 for Best Metal Performance for Iron Man from their Reunion live album.
"We've had an unbelievable year. A #1 album in 13 countries, our first-ever #1 ever in America, a sold out world tour and now another Grammy award to top it off. We are shocked and thrilled," Black Sabbath said.
Next up, the band will return to the road with performances in North America and Europe. The North American dates launch March 31st at Barclays Center in Brooklyn, NY and will hit ten cities in Canada, including stops in Quebec, Montreal, Ottawa, Calgary and Edmonton, before wrapping April 26 at the Hollywood Bowl in Los Angeles, CA. The overseas shows begin on May 29th in Abu Dhabi at Du Arena, the band will then perform two gigs in Russia before going on to Europe. Black Sabbath kicked off their triumphant 2013-2014 world tour in April 2013 with shows in Australia, New Zealand and Japan. North American dates followed, along with performances in South America and Mexico for a headlining stadium tour (where they played to more than 300,000 fans).
Earlier this month, it was announced that Black Sabbath: The Complete Studio Albums 1970-1978 featuring the band's collected studio works for Warner Bros. Records from the 1970's would be available on the iTunes Store worldwide. This includes the band's iconic eponymous debut (1970), the multi-platinum landmark Paranoid (1970), the platinum albums Master Of Reality (1971), Vol. 4 (1972), and Sabbath Bloody Sabbath (1973), and the gold-certified Sabotage (1975), Technical Ecstasy (1976), and Never Say Die! (1978). Also available is their classic 1976 compilation We Sold Our Soul For Rock N' Roll as well as 2006's Greatest Hits 1970-1978, which was released in connection with their induction into the Rock And Roll Hall Of Fame.
For more than three decades, rock fans have hoped for the return of Black Sabbath, but few could have predicted the forceful return-to-form of 13, which was produced by seven-time Grammy-Award winning producer Rick Rubin. 13 features three of the four original members: Ozzy Osbourne, Tony Iommi and Geezer Butler. With epic songs like God Is Dead?, End of the Beginning and Loner, 13 is a testament to the enduring relevance of Black Sabbath's long-running reign. The original Black Sabbath has sold over 70 million albums worldwide.