BLACK SABBATH GUITARIST TONY IOMMI TO UNDERGO SURGERY FOR A LUMP IN HIS THROAT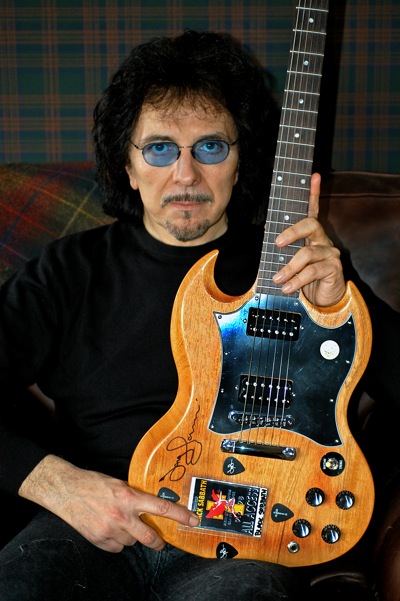 Tony Iommi is to undergo surgery to have a lump removed from his throat, just in case it's cancerous.
The Black Sabbath icon will receive treatment before the final leg of the band's farewell tour begins next month.
He was told in August that his cancer was in remission after revealing in 2012 that he'd been diagnosed with lymphoma.
Now he's recalled how his illness, combined with the disagreement that led drummer Bill Ward to leave the band, came close to shutting them down.
Iommi tells the Irish Times, "I went for a check four weeks ago and the doctor said that, at the moment, there's no activity where I had the cancer before – but there is activity in the throat.
When I get back to England I have to have an operation to remove this thing at the back of my nose. The doctors found a lump and we don't know if it's cancer or what. But I feel okay at the moment."
The guitarist has previously confirmed that his health is one of the main reasons Black Sabbath are retiring. He says, "I was knocked for six when doctors told me it was stage-three cancer. It really did change my life as far as what I have to do now. I have to live what life I've got. I've been on the road for nearly 50 years – I need to be at home more and I need to pay more attention to my friends and family."
He describes the experience of being told he had cancer as "the lowest moment" and says it was different from the factory accident that left him with two fingertips missing from his right hand, which took place when he was a teenager.
"The thing with the fingers, you can carry on," he reports. "But with cancer you just don't know. You don't know how long you're going to be here and how bad it's going to get."
Black Sabbath will complete their last shows without original drummer Bill Ward, who dropped out of the reunion that was announced five years ago, saying he hadn't been offered a contract he felt was "signable."
Iimmi says, "It's a shame Bill wasn't involved. What can you do? It's one of those things that happened. It just got silly. He got into a legal battle with the management, pulled out and did not come back. It was very difficult. Also, we were concerned about how Bill was going to play and he was going to handle things. Then, of course, I came down ill. It was almost falling apart and we pulled it back together. Bill made his choice not to do it, and that was that."
Iommi recently said it was possible that Black Sabbath could continue in a less active form after the farewell tour. Asked about making another album he says, "We haven't talked about it. This is my view thinking it would be nice. At the moment I think there's call for a bit of time off. I think anything is possible, if people want to do it. It is the end as far as touring is concerned."
Black Sabbath: The End world tour remaining dates
Jan 20: Dublin 3 Arena, Ireland
Jan 22: Manchester Arena, UK
Jan 24: Glasgow SSE Hydro, UK
Jan 26: Leeds First Direct Arena, UK
Jan 29: London O2, UK
Jan 31: London O2, UK
Feb 2: Birmingham Genting Arena, UK
Feb 4: Birmingham Genting Arena, UK
additional source: Classic Rock via teamrock.com