BASSIST RACHEL BOLAN ON SKID ROW ALMOST REUNITING, "I WOULDN'T SAY 'CAME CLOSE,' WE ENTERTAINED THE IDEA"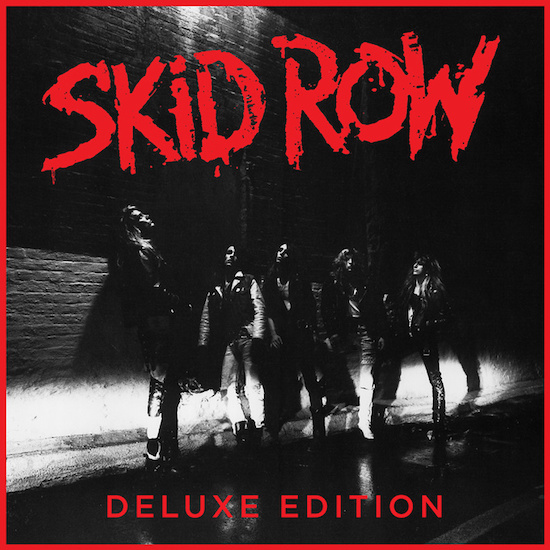 Sarah Grant of Rolling Stone reports:
[Skid Row's debut eponymous album is celebrating the 30th anniversary since it was released]…a pair of dueling tours will honor the 30th anniversary…there's the Skid Row tour, featuring original members Dave "Snake" Sabo, Rachel Bolan, and Scotti Hill, playing the songs they wrote. Then, on a different run, kicking off August 29th and running through November, fans will get to hear those songs sung by the voice that made them famous, [Sebastian Bach]. [Regarding a band reunion] …"Don't hold your breath," Bach tells Rolling Stone
.
 [The singer] isn't even mentioned on the band's official bio page and Bach says they haven't spoken in 23 years, when he was fired — a claim that [guitarist Dave "The Snake"] Sabo disputes. "I saw him about nine years ago when I was managing Duff McKagan," the guitarist tells Rolling Stone via email. "Duff and his band had a show at the Viper Room and Sebastian showed up with his girlfriend. It was brief and cordial at best. Definitely not momentous."
The idea of a reunion has been on the table before. "We were close to reuniting maybe two years ago, or a year ago or something like that, but then it didn't happen," Bach says. "The fact that it didn't happen obviously makes me somewhat bitter, because life is only getting shorter, as the song says."
"I wouldn't say 'came close,'" [bassist Rachel] Bolan tells Rolling Stone in an email in response to Bach's account of the reunion talks. "We entertained the idea. Snake and I went as far as talking with agents and promoters about money. But we quickly learned after a few text conversations, why we fired him in the first place. Nothing is worth your happiness and peace of mind."
"It was already a miserable experience and we didn't even get on the phone," Sabo adds via email.
Rolling Stone: Any luck in your open call to reunite Skid Row this year?
Sebastian Bach: No [laughs]. How much fun was it for me to say, "Yeah, it's going to be great! Sony Theater, New York!" And … nothing.
Rolling Stone: Not even a text? Not even an angry text?
Sebastian Bach: No, we don't do that. We don't communicate. We're like the Creedence Clearwater [Revival] of glam metal.
Rolling Stone: Do you think they're offended that you put it out there publicly? Like, putting the fate of a Skid Row reunion in their court?
Sebastian Bach: No. I think it's an ego thing. They don't like when I get attention, and they don't get attention. It's always been like that. I can already see them getting mad, because I'm selling out shows, and they're not part of the show, and blah, blah, blah. 
Rolling Stone: So, looking at the bigger picture, what would it take for a Skid Row reunion? What do you need to hear from them?
Sebastian Bach: It would take those guys to realize that I have a lifetime manager. His name is Rick Sales. I've been with him since 2006. They don't want to deal with a guy like that. They want to give some singer who doesn't have a manager $700 to $800 bucks a week. I've got a team that's worked with me and don't allow me to get f–ked around. I didn't have that team when I was 19 years old.
[
Editor's Note:
 In response to Bach's statements about the earnings of Skid Row's singer, Sabo writes: "I guess fact-checking isn't in his skill set. … The five of us go on that stage as a band and we all get paid equally. We're in this together. There's no egos."]
Rolling Stone: You feel you didn't know how to protect yourself back then, legally.
Sebastian Bach: After it ended, I was all on my own. I had to start over again. I'm never going through that again. I'm too old for that.
[Dana's note: Bach then goes on to say that his former bandmates, "don't like me."
Rolling Stone: Why do you say that? Hasn't enough time passed?…
Sebastian Bach: I think they have a real control thing. If you notice, they've had a new singer for what, two or three years now? He's done zero interviews. Well, no wonder they don't like me. When I'm around, I do the interviews. I'm just saying, they've always resented lead singers that get all the attention. That goes back to your magazine, putting me on the cover without them. They didn't like that very much.
Rolling Stone: Do you keep tabs on Skid Row? Have you ever seen them play without you?
Sebastian Bach: Only one time on YouTube, a couple singers back. It said "I Remember You," and I thought it was my band, so I clicked on it, and then I watched it, and I said, 'What the f–k? … Oh, my God.'
Rolling Stone: Today, are you on good or bad terms with the Bon Jovi guys?
Sebastian Bach: I'm on good terms with them. I saw Richie in Vegas. We did a song together with Dee Snider onstage for a charity thing. Before, a couple years back in the Mandarin Oriental Hotel, Jon, Richie, and I killed about 10 bottles of wine [laughs]. I haven't seen Jon in a while, but we were definitely having a great time the last time I saw him.
Rolling Stone: Can you explain to me why Jon Bon Jovi collects royalties from Skid Row's debut album?
Sebastian Bach: Because he helped us out. He took us on the road for the whole New Jersey tour, and we signed what was called a production deal at the time, which gave him a cut of the proceeds if we were successful. The last thing anybody ever thought would happen. But actually we were quite successful. It wasn't exactly an overnight success. It took at least two weeks. On the road with him, it was a quick rise.
Rolling Stone: You don't seem bothered that he still gets a cut.
Sebastian Bach: Some people say [Jon Bon Jovi] got overcompensated. But as years go by, I look at the chance we were given, and most likely, we never would have made it without going on that tour.
Read more at Rolling Stone.
Sebastian Bach tour dates:

Aug 29 – Nashville, TN – Mercy Lounge
Aug 30 –  Anderson, SC – William A Floyd Amphitheater
Aug 31 –  Charlotte, NC – Amos Southend

Sep 2 – Huntsville, AL – Side Tracks Music Hall
Sep 3 – Columbus, OH – Skully's
Sep 4 – Cleveland, OH – Phantasy
Sep 6 – Stafford Springs, CT – Palace Theater
Sep 7 – Block Island, RI – Ballard's (afternoon show)
Sep 9 – Laconia, NH – Granite State Music Hall
Sep 10 – Hampton Beach, NH – Wally's
Sep 11 – Portland, ME – Aura
Sep 13 – Harrison, OH – The Blue Note
Sep 14 – Flint, MI – The Machine Shop
Sep 15 – Grand Rapids, MI – The Intersection
Sep 18 – Kansasville, WI – 1175
Sep 19 – St. Louis, MO – Delmar Hall
Sep 20 – Lombard, IL – Brauer House
Sep 21 – Dubuque, IA – Q Casino
Sep 22 – Lexington, KY – Manchester Music Hall
Sep 25 – New York, NY – Sony Hall
Sep 26 – Harrisburg, PA – XL Live
Sep 27 – Lynchburg, VA – Phase 2
Sep 28 – Waterloo, NY – The Vine at Del Lago
Sep 29 – Warrendale, PA – Jergel's

Oct 1 – Atlanta, GA – Variety Playhouse
Oct 3 – Wichita, KS – WAVE
Oct 5 – Golden, CO – Dirty Dogs Roadhouse (Outdoor)
Oct 6 – Albuquerque, NM – Sunshine Theater
Oct 10 – Ramona, CA – Ramona Mainstage
Oct 11 – Los Angeles, CA – Whisky A Go Go (Night 1)
Oct 12 – Los Angeles, CA – Whisky A Go Go (Night 2)
Oct 17 – Roswell, NM – Liberty Theater
Oct 18 – Oklahoma City, OK – Diamond Ballroom
Oct 19 – Waco, TX – The Backyard
Oct 20 – Dallas, TX – Gas Monkey Bar N' Grill
Oct 22 – Houston, TX – House of Blues
Oct 23 – San Antonio, TX – Aztec Theater
Oct 24 – Corpus Christi, TX – House of Rock
Oct 25 – Lafayette, LA – The District
Oct 26 – Miramar Beach, FL – Village Door Music Hall
Oct 28 – Miami, FL – KISS Kruise Pre Party @ Double Tree
Oct 30 – Orlando, FL – Hard Rock
Oct 31 – Savannah, GA – Victory North

Nov 1 – Ft. Myers, FL – The Ranch
Nov 2 – Pinellas Park, FL – England Brothers Park
For more information:
sebastianbach.com
facebook.com/sebastianbach
twitter.com/sebastianbach
instagram.com/sebastianbach
youtube.com/SebastianBachOfficial