BASSIST MICHAEL ANTHONY DISCUSSES VAN HALEN'S 2004 TOUR AND THE "FUN" HE HAS WORKING WITH SAMMY HAGAR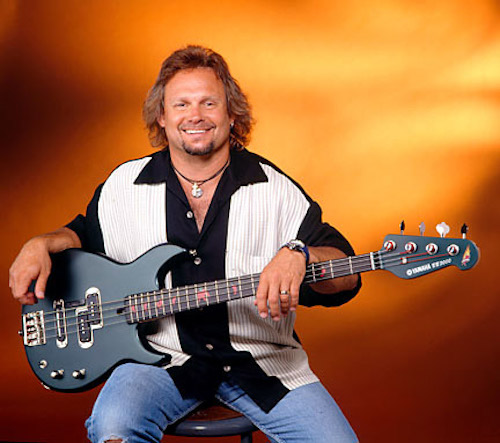 Stephanie Schultz of The Press-Enterprise reports:
When Michael Anthony, longtime bassist and back-up vocalist for rock icons Van Halen left the band in the late '90s, he faced some uncertainties except one: he would continue to play music.
"I couldn't just sit on my hands and do nothing because my last name isn't Van Halen," Anthony said in a recent telephone interview. "I didn't want to be the bass player everyone forgot about."
Anthony played with various bands and eventually reunited with former Van Halen frontman Sammy Hagar and even original lead singer David Lee Roth for a short-lived Van Halen tour. [Dana's note: Hagar and Roth never toured on the same bill for Van Halen. The writer, most likely, accidentally combined the 2004 Van Tour along with the 2002 Roth/Hagar tour.]
"It started out going well and then it didn't go too well," he said of the 2004 tour. "I remember the first show I played, Sammy said, 'Yeah, I think Dave is going to come out and join us,' and Dave never came out of his dressing room and he became a recluse and I never really saw him."
To add to the complications, Eddie Van Halen was dealing with health issues.
"Eddie was in bad shape – we did 80 shows and had to pull the plug because it was just too much work," he said. "And I hated having to wake up the day of the show and think, 'Which Eddie Van Halen are we going to get today? The Jekyll or the Hyde?'"
But Hagar, a Fontana native, circled back and asked Anthony to start coming out to shows to perform with the Red Rocker's band The Waboritas, which then led to Chickenfoot, a supergroup featuring Hagar, Anthony, the Red Hot Chili Peppers' drummer Chad Smith and guitarist Joe Satriani. Hagar also formed The Circle — another formidable group made up of Hagar, Anthony, drummer Jason Bonham, son of Led Zeppelin drummer John Bonham, and guitarist Vic Johnson.
Anthony said it's all about having fun these days, including good times off stage like when the two get together on Hagar's television show Rock & Roll Road Trip With Sammy Hagar on AXS TV.
"What's great about Sammy and I is once we reconnected we had already attained a level of success and it allowed us the luxury to just have fun," Anthony said. "There's no egos involved, we are all really good friends and although it's nice to make money, it's not money driven."
The Circle will perform at Agua Caliente Casino Resort Spa in Rancho Mirage on Thursday, May 17th, and Pala Casino Spa & Resort on Saturday, May 19th. The latter performance is in conjunction with the opening of the resort's new pool complex.
Anthony said the band enjoys performing at casinos as much as arenas and stadiums.
"The casinos are always packed and a little more intimate than the bigger arena shows and we have a lot of fun playing those and we plan to bring all the craziness that we do," he said with a laugh. "And I gotta tell you, they pay really well."
The members of The Circle bring a massive catalog of songs to choose from making the setlists a cornucopia of classic hits ranging from Hagar's solo career, Montrose, Van Halen, Led Zeppelin and selections from Chickenfoot and The Circle.
"One of my favorite songs to play live is Right Now," Anthony said of the 1992 Van Halen hit. "It always evokes a lot of emotion from the crowd and is a lot of fun to play. Poundcake is great fun, too."
source: pe.com