BASSIST DAVE ELLEFSON RELEASES "MORE LIFE WITH DETH" ON JULY 19TH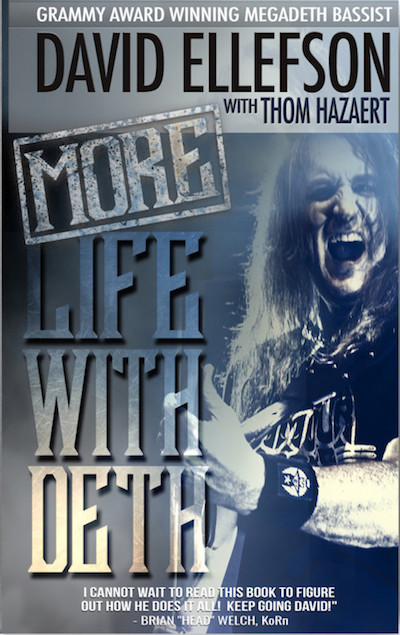 In this follow-up to his 2013 memoir My Life With Deth, Megadeth bassist and co-founder David Ellefson picks up where he left
off, charting his mid-2000s departure from Megadeth through
his triumphant return in 2010, and offering an inside look at the continuing saga of one of the world's biggest and most enduring heavy-metal bands.
More Life With Deth is published to coincide with the release of Ellefson's new album, Sleeping Giants—out July 19th through Combat Records—and with the Summer 2019 Basstory—More Life With Deth tour. Full details below.
Co-written with his business partner Thom Hazaert—a celebrated music-industry figure, radio personality, and music journalist—More Life With Deth chronicles Megadeth's record-shattering 'Big Four' shows alongside Metallica, Slayer, and Anthrax, and the release of their Grammy-winning Dystopia—their highest- charting record in over twenty-five years—plus the massive two- year world tour supporting it. Far more than your typical rock star tell-all, More Life also delves deeper into the origins of Megadeth and David's roots in rural Minnesota, and tells the stories behind the creation of his hugely successful EMP Label Group, Ellefson Coffee Co., and the relaunch of the famed metal label Combat Records, as well as his continued personal journey of spirituality and sobriety.
Told through the words of Ellefson, Hazaert, and friends including Alice Cooper, Brian 'Head' Welch (KoRn), Kristian Nairn
(Game Of Thrones), Mark Tremonti, K.K. Downing (Judas Priest), Brian Slagel (Metal Blade Records), Frank Bello (Anthrax), Dan Donegan (Disturbed), Jason McMaster (Dangerous Toys), Dirk Verbeuren (Megadeth), Kiko Loureiro (Megadeth), Chris Adler (Lamb Of God, Megadeth), and many more, More Life With Deth is an insightful and personal look at one of the most revered rock musicians and heavy-metal entrepreneurs of our time.
Basstory—More Life With Deth Tour

July 6 Providence RI, Fete Music Hall
July 7 Long Branch NJ, Brighton Bar
July 8 N. Branford CT, Strangeland (signing)July 10 New Bedford MA, Vault Music Hall at Greasy Luck
July 11 Waterbury CT, Shamrock Pub and GrillJuly 14 Long Island NY, Revolution
July 18 Pekin IL, Twisted Spoke Saloon
July 19 Lombard IL, Brauerhouse
July 22 Rockford IL, Whiskey's Roadhouse
Sept 7 Phoenix AZ, Joe's Grotto (w/Fatal Malady)+ more dates TBA

Performing with Ellefson will be Hazaert, along with Dead By Wednesday guitarist Dave Sharpe and drummer Opus Lawrence, and Hatchet guitarist Clayton Cagle.