AXL ROSE MAKES A RARE APPEARANCE AT THE CHINA EXCHANGE, INTERVIEW POSTED ONLINE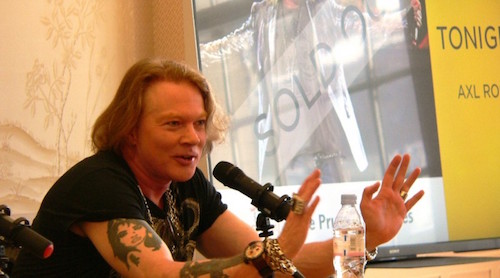 In the maelstrom of his recent activities, from the long awaited, historical Guns N' Roses stadium tour to his heralded performances as touring vocalist with AC/DC, Axl Rose has maintained a deafening silence. In recent months, when even fan sightings and accounts of chance meetings with Rose, have made headlines, Axl Rose remained silent unless on the stage…until now. On Tuesday June 7th, Rose made a rare appearance at China Exchange in London's Chinatown, as part of the Prudential Series, for a candid 60-minute discussion, hosted by Sir David Tang. Watch the interview below.
Created in 2015, China Exchange serves as a home for ideas, discussion, and creative expression to stimulate greater understanding of China's impact on the world. So when the Chinese Democracy vocalist was invited for an unlikely conversation in an intimate setting, many believed the booking to be a hoax. Before a sold-out audience of 230 fans and friends, Axl Rose indeed emerged for an unfiltered, candid 60-minute discussion, pleasantly and honestly answering all questions fans and press have been eager to explore with the iconic vocalist. Comfortable in the is free-form environment, Rose discussed his vocal techniques – a regime of vocal exercises; his aim for a cleaner sound on Chinese Democracy; and the complexity of singing Brian Johnson's Back in Black with care to avoid lasting damage to his voice. ​Rose went on to confide what it means to him to be performing with AC/DC on the current tour and to be in a positive place with Guns n' Roses.
Of his meeting with the legendary performer, China Exchange founder, Sir David Tand expressed "Axl Rose is at the apex of contemporary music that speaks and relates to hundreds of millions of people. I could not have talked to a more extraordinary human being."