ARMORED SAINT TO RELEASE NEW LIVE ALBUM "CARPE NOCTUM," PRE-ORDERS AVAILABLE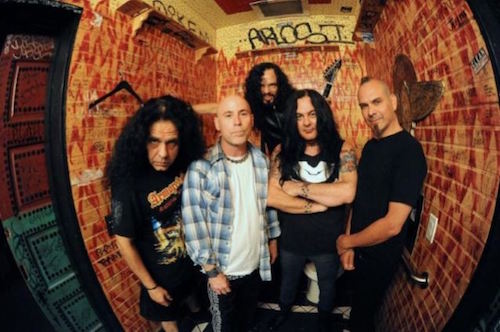 Armored Saint have teamed up with PledgeMusic to release their new live album, Carpe Noctum.
From Armored Saint, "Why PledgeMusic? Our fans have been extremely supportive over the years. We want to share the process of realizing this project with you by giving you the chance to be a part of it, from start to finish. How does it work? You place your orders here and when the album is released, you will get your items in the mail. But throughout the process, you will have access to the regular updates that we will post on this page."
In conjunction with PledgeMusic, this special live album is available in various formats and bundles, with every "pledge"/purchase receiving a digital download of the tracks, plus exclusive behind-the-scenes content (including footage from Wacken 2015, plus 2016's Ozzfest and Queensryche appearances, and more!).
For more information about this release, and to pre-order, please visit pledgemusic.com/projects/armoredsaint.
Carpe Noctum song listing:
1. Win Hands Down
2. March Of The Saint
3. Stricken By Fate
4. Last Train Home
5. Mess
6. Aftermath
7. Left Hook From Right Field
8. Reign Of Fire
Armored Saint tour dates w/ Queensryche, Midnight Eternal:
Nov. 15 – Showbox At The Market – Seattle, WA
Nov. 16 – Ace of Spaces – Sacramento, CA
Nov. 17 – Riverside Municipal Auditorium – Riverside, CA
Nov. 18 – House of Blues – San Diego, CA
Nov. 19 – Club Red – Mesa, AZ *
Nov. 21 – Jakes Backroom – Lubbock, TX *
Nov. 22 – Alamo City Music Hall – San Antonio, TX
Nov. 23 – Scout Bar – Houston, TX
Nov. 25 – Clicks – Tyler, TX
Nov. 26 – Trees – Dallas, TX
Nov. 29 – Mavericks at the Landing – Jacksonville, FL
Nov. 30 – Culture Room – Fort Lauderdale, FL
Dec. 1 – The Cuban Club – Tampa, FL
Dec. 2 – The Music Farm – Charleston, SC
Dec. 3 – Baltimore Soundstage – Baltimore, MD
Dec. 4 – Chameleon Club – Lancaster, PA
Dec. 6 – Irving Plaza – New York, NY
Dec. 7 – Rex Theatre – Pittsburgh, PA
Dec. 8 – Diesel Concert Lounge – Chesterfield, MI
Dec. 9 – Concord Music Hall – Chicago, IL
Dec. 10 – The Metal Grill – Milwaukee, WI *
Dec. 11 – Limelight – Peoria, IL
Dec. 13 – The Waiting Room – Omaha, NE
Dec. 14 – Kanza Hall – Overland Park, KS
Dec. 15 – The Black Sheep – Colorado Springs, CO
* =Armored Saint only