ANTHRAX'S LIVE DVD "KINGS AMONG SCOTLAND" TO BE RELEASED ON APRIL 27TH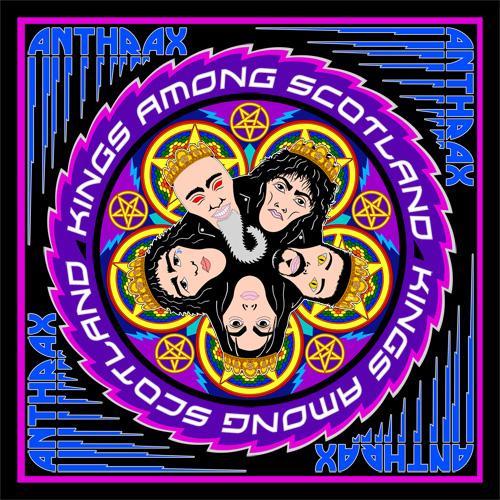 Multi-Grammy-nominated thrash icons Anthrax will see Kings Among Scotland, the band's long-awaited live-in-concert DVD, arrive in stores and online on April 27th (Megaforce). Captured last February 15th at the band's sold-out concert at Glasgow's historic venue Barrowland Ballroom, the two-hour Kings Among Scotland incorporates the band's entire live show along with interviews, behind-the-scenes footage and other B-roll shot on the band's tour bus, backstage, in hotels and elsewhere. The DVD will also include a "gear rundown" from each of the band members. Kings Among
Scotland can be pre-ordered starting today; log on to anthrax.com for all purchasing information.
"Playing for our friends at the Barrowlands has always been very special," said Anthrax's Frank Bello. "We all know we're going to get together and have an insanely great time, and we think that incredible interaction and energy really comes through on this video."
With packaging art created by Steve Thompson (Slayer, Motorhead, Iron Maiden), the DVD's concert is presented in two parts. For part one, Anthrax perfomed the "favorites" that had been voted on pre-show by the band's fans and includes gems like Madhouse, Be All, End All, Breathing Lightning, and A.I.R. The band augmented the stage production for part two, with ramps and staircases and other production values while they tore into their classic 1987 album Among The Living, performing Caught In A Mosh, I Am the Law, Indians, Eflinikufesin (N.F.L.), and more.
"It was pretty a intense show," added guitarist Scott Ian, "especially when the crowd was so insane, the floor actually started moving up and down."
"It was a challenge for all of us to play Among The Living live," admits Charlie Benante. "We've played a number of that album's songs in our shows over the years, but not all of them, and playing a song in a recording studio is not the same as playing it live on stage. So we put in a lot of time to get all of the tracks down perfectly. And I'll tell you, after we finished that set, as arduous as it was, we all felt a sense of exhiliration, like we could go out and do it again."
The release of Kings Among Scotland will be preceded by Anthrax's North American co-headline tour with Killswitch Engage – "KillThrax 2018" – set to kick off January 25th in Montreal. All dates are below.
The Killthrax Tour 2018
January:
25 MTelus, Montreal, QC
26 London Music Hall, London, TN
27 Sherman Theatre, Srtoudsburg, PA
28 The National, Richmond, VA
30 Jannus Live, Tampa, FL
31 The Fillmore Charlotte, Charlotte, NC
February:
2 Eagles Ballroom Club Stage, Milwaukee, WI
3 Egyptian Room at Old National Centre Indianapolis, IN
5 Marathon Music Works, Nashville, TN
6 Iron City, Birmingham, AL
8 The Pavilion at Concrete Street, Corpus Christi, TX
9 Lonestar Pavillion, Lubbock, TX
10 The Criterion, Oklahoma City, OK
11 El Rey Theater, Albuquerque, NM
13 House of Blues, San Diego, CA
14 House of Blues, Anaheim, CA
16 Revolution Concert House, Boise, ID
17 Knitting Factory Concert House, Spokane, WA
19 The Ranch, Edmonton, AB
20 Bowes Event Center at Revolution Place, Grande Prairie, AB
21 MacEwan Hall, Calgary, AB
23 Burton Cummings Theatre, Winnipeg, MB
24 Skyway Theatrer, Minneapolis, MN
25 Anthem @ Hard Rock Hotel & Casino, Sioux City, IA
27 The Forge, Joliet, IL
March:
1 Rams Head Live, Baltimore, MD
2 Dome Arena, Rochester, NY
3 The Palladium, Worcester, MA
4 State Theater, Portland, ME