ANTHRAX'S "CHILE ON HELL" LIVE DVD TO BE PREMIERED AT L.A. AND N.Y. THEATRES ON SEPTEMBER 15TH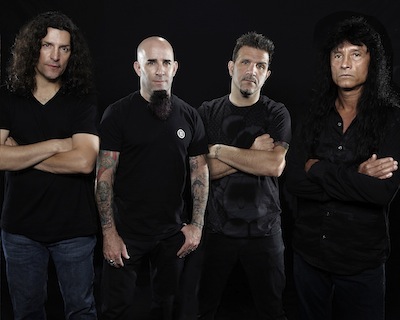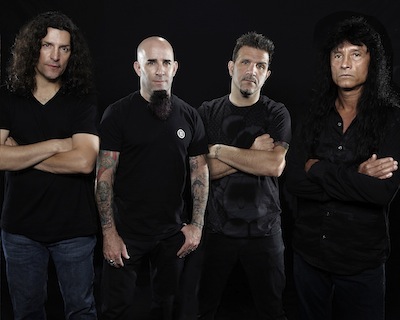 Before you get down to moshing in the privacy of your own home, do some serious partying in either Los Angeles or New York when Anthrax's Chile On Hell live DVD is premieres on Monday, September 15th, the day before its general release. And, not only will attendees be among the first to see the thrash-masters performing an extended set that features all the fan-favorites in front of a sold-out, rabid crowd in Santiago, Chile, but each event will feature a special Q&A – Scott Ian and Chile On Hell's producer Jay Rustin at the L.A. screening, and Anthrax's Frank Bello at New York's.
The premiere is free to fans who pre-order the Chile On Hell Blu-ray or DVD from either Vintage Vinyl in Fords, NJ, Looney Tunes in West Babylon, NY, or Amoeba Records in Los Angeles, CA. Each pre-order comes with one wristband that entitles the holder to attend the premiere. Wristbands are limited, and when they're gone, they're gone.
The New York premiere will take place at 9:00PM ET at Cinema Village, 22 E. 12th Street; go to ltcds.com or vvinyl.com for all details.
..and the L.A. premiere is set for 9:00PM PT at the Downtown Independent Theatre, 251 S. Main Street; more details are available here.
Chile On Hell will be released on Tuesday, September 16th (Megaforce), and features Joey Belladonna/vocals, Scott Ian/guitar, Charlie Benante/drums, Frank Bello/bass and Jon Donais/lead guitar performing at the Teatro Caupolican in Santiago, Chile on May 10, 2013. The band performed an extended set that featured songs from Anthrax's entire catalog including I Am The Law, Indians, Madhouse, Caught In A Mosh, The Devil You Know, and I'm Alive. Chile On Hell was recorded in 5.1 Surround Sound, and will retail for $16.98.
"Santiago was the perfect place to film the show for this," said Anthrax's Charlie Benante. "When we'd played there in the past, we'd finish our set, play our encore and go back to the dressing room. But every time, the fans would continue to scream and cheer and clap. I mean, they went on and on, they wouldn't stop. One time Scott and I walked out to the side of the stage just to watch what was going on in the audience, it was intense. Why wouldn't we want to film a DVD in front of an audience like that?"