ANTHRAX TO RELEASE LIMITED EDITION "FOR ALL KINGS 7-INCH BOX SET" ON MARCH 24TH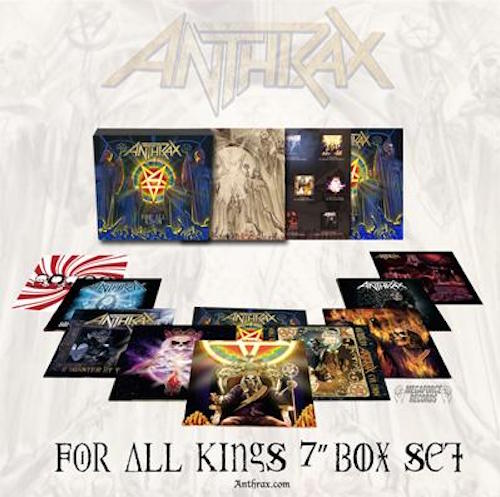 Available exclusively in North America and released in conjunction with the band's upcoming Spring co-headline tour with Killswitch Engage – "KillThrax" – thrash metal icon Anthrax – Frank Bello/bass, Scott Ian/guitar, Joey Belladonna/vocals, Charlie Benante/drums, Jonathan Donais/guitar – announces the release of the limited edition For All Kings 7-Inch Box Set (Megaforce Records). The set goes on sale March 24th, will retail for $79.99, and is an absolutely stunning collector's item for any Anthrax fan as this unboxing video will illustrate.
The For All Kings 7-Inch Box Setincludes a removable lenticular cover and contains 10 7-inch vinyl discs featuring 20 songs – the 11 finished album tracks, two brand new covers (The White Stripes' Black Math and the classic Kansas song Carry On), six demos from the FAK track listing, and Vice of the People, a bonus track previously released only in Japan and now making its North American vinyl debut. The original album cover art sketch by Alex Ross is also part of this package, as well as a download card enabling the holder to access the Box Set's tracklisting for free.
Each 7-inch disc features gorgeous, double-sided four-color artwork designed by Douglas Heusser with additional art by Stephen Thompson, as well as band photos by Jimmy Hubbard. The tracks are pressed onto different-colored vinyl discs – red, green, blue, maroon, orange, most with a two-color swirl design.
"Doing a box set edition of For All Kings was something that we've always wanted to do," said Benante, who worked closely with Heusser and Thompson on the box set's artwork. "We wanted to do something special, something that was so much more than the original release, and have it be fun for our audience when they open it up, just be floored by the different colored vinyl, the artwork, everything that's inside. And we think we've done that."
The complete For All Kings 7-Inch Box Set track listing is below along with dates for "KillThrax" tour.
For All Kings 7-Inch Box Set track listing:
Breathing Lightning (album version)
Breathing Lightning (demo)
Monster At The End (album version)
Monster At The End (demo)
Suzerain (album version)
Suzerain (demo)
Black Math (White Stripes cover)
Carry On (Kansas cover)
You Gotta Believe (album version)
For All Kings (album version)
Evil Twin (album version)
This Battle Chose Us (album version)
All Them Thieves (album version)
Vice of the People (previously unreleased in North America)
Zero Tolerance (album version)
Zero Tolerance (demo)
Blood Eagle Wings (album version)
Blood Eagle Wings (demo)
Defend Avenge (album version)
Defend Avenge (demo)
"KillThrax" Dates:
March:
29 The Wellmont Theatre, Montclair, NJ *
30 LC Pavilion, Columbus, OH **
31 Arcada Theatre, St. Charles, IL (Anthrax only)
31 The International, Knoxville, TN (KsE only)
April:
1 Little River Casino, Manistee, MI (Anthrax only)
1 Norva, Norfolk, VA (KsE only)
3 The Fillmore, Silver Springs, MD *
4 The Dome, Wallingford, CT *
5 Electric Factory, Philadelphia, PA **
7 20 Monroe Live, Grand Rapids, MI *
8 The Fillmore, Detroit, MI **
9 Stage AE, Pittsburgh, PA *
11 The Ritz, Raleigh, NC **
12 Tabernacle, Atlanta, GA **
13 House of Blues, Orlando, FL *
15 Texas Independence Festival, Austin, TX **
16 Boggus Ford Events Center, Pharr, TX **
17 House of Blues, Houston, TX *
18 House of Blues, Dallas, TX **
20 The Marquee, Phoenix, AZ *
21 Las Rageous, Las Vegas, NV *
22T The Wiltern, Los Angeles, CA **
23T The Fillmore, San Francisco, CA **
25 Showbox SoDo, Seattle, WA *
26 Roseland Theatre, Portland, OR **
28 Fillmore Auditorium, Denver, CO *
29 Sokol Auditorium, Omaha, NE **
30 Midland Theatre, Kansas City, MO *
May:
1 The Pageant, St. Louis, MO **
3 Danforth Music Hall, Toronto, ON CANADA **
5 Paramount Theatre, Huntington, NY **
6 Upstate Concert Hall, Clifton Park, NY *
7 House of Blues, Boston, MA*
* – KsE closes
** Anthrax closes
For more information, visit anthrax.com.