ANTHRAX TO PLAY BROOKLYN'S SAINT VITUS BAR ON SEPTEMBER 16TH TO BENEFIT GILDA'S CLUB NYC, TICKETS GO ONSALE AUGUST 19TH AT NOON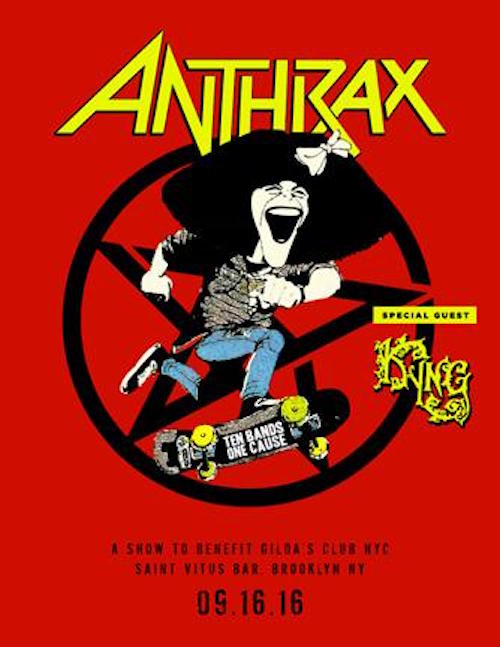 With October designated as Breast Cancer Awareness Month, New York born-and-bred thrash/metal icons Anthrax announce a very special concert to be held at Brooklyn's Saint Vitus Bar on Friday, September 16th.
"This has to be the most intimate show we've played since the early 80's which makes it so special," said vocalist Joey Belladonna about the Saint Vitus Bar, known for putting on massive underplays in their small Brooklyn bar. Jose Mangin from SiriusXM/Affliction Clothing will be on hand to host.
Tickets are priced at $50 and go on-sale at NOON this Friday, August 19th. Purchase tickets at ticketfly.com, by clicking here.
All proceeds will go to benefit Gilda's Club NYC, and everyone who purchases a show ticket will get a special, limited-edition t-shirt created just for cancer awareness, courtesy of Jakprints. In addition, Anthrax has joined up with artists including The Black Keys, the Pixies, Ed Sheeran and the Red Hot Chili Peppers to take part in this year's Ten Bands One Cause promotion aimed at bringing awareness to October's Cancer Awareness Month that also benefits Gilda's Club NYC.
A limited number of Anthrax's new album, For All Kings (Megaforce) will be pressed onto pink vinyl and released on September 27th. Identified by a special sticker, the album will be available at all retail stores where vinyl is sold, through Amazon and all F.Y.E. stores. Fans will be able to get their hands on a copy of Anthrax's For All Kings pink vinyl before release date as a small quantity – all signed by the band – will be on sale at the Saint Vitus show.
The members of Anthrax have a very personal connection with cancer awareness. Bernadette "Tina" Benante, drummer Charlie Benante's mother and bassist Frank Bello's grandmother, passed away from cancer in 2012. "Cancer took away one of the most important people in my life," said Bello. "I was at the hospital wheeling my grandmother to chemo and it was just brutal. Anything that we can do to not make people go through that hell is something we want to be involved with."
The band members will tell you that Tina never missed an Anthrax show. When the band played New York, she was there. She loved baking cookies and she knew each band members' personal favorites. When they played Yankee Stadium with The Big Four, she baked everyone's favorites and brought them to the band's dressing room.
"They don't make them like that anymore," Bello added. "She was and will always be a big part of Anthrax."
The day his mom passed, Charlie wrote, "My Mom was all about letting me follow my dream, she always pushed me in that direction. She was the one who would take me to buy my records, she was the one who would sit through a matinee of all five Planet of the Apes movies. She was the one who got me to be who I am. I am going to celebrate her life every day."
Gilda's Club NYC was founded in 1995 in memory of Gilda Radner, the talented comedienne and original cast member of "Saturday Night Live" who passed away in 1989 from cancer. GCNYC's mission is to support, educate and empower cancer patients and their families.
Said Anthrax's Scott Ian about Gilda's Club NYC, "No one should face cancer alone. The vital support they give to cancer patients and their families is truly a noble cause and we are honored to be able to help."