ANTHRAX AND KILLSWITCH ENGAGE ANNOUNCE "KILLTHRAX II" 2018 TOUR DATES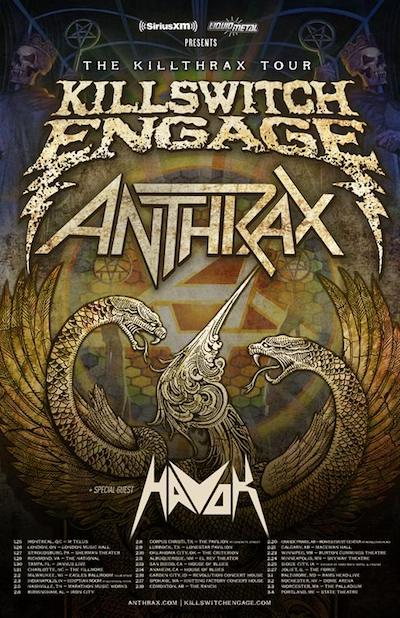 What do you do when you've co-headlined one of the hottest metal touring packages of 2017? Well, like any rock band that cares about its fans, you do it again, but you take it to the places that missed out the first time. And that's exactly what metalcore masterminds Killswitch Engage and legendary thrash/metal masters Anthrax are announcing today-KillThrax II, a 29-city tour of North America presented by SiriusXM that kicks off January 25th in Montreal, Canada and will zig-zag across the continent to wind up in Portland, ME on March 4. Confirmed tour dates are below. Tickets go on sale to the general public this Friday, 10/20 at 10AM local time. Go to anthrax.com for all ticket purchasing and VIP packages info.
Havok will serve as the opening act for the entire tour.
Said Anthrax's Frank Bello, "After playing so many amazing shows last year with our friends Killswitch Engage, I'm psyched for round two of KillThrax, and we're adding Havoc to the heaviness." Added Charlie Benante, "The shows were great, the audiences were great and we all felt great about the whole thing, so why not do it again?"
"We are looking forward to the next leg of the KillThrax' tour, said KsE singer Jesse Leach. "We had a blast on the first one and we enjoyed sharing the stage with the humble legends Anthrax. There is such a synergy between the two bands and a certain unity that is infectious, so it was a no brainer to put this package back together and hit the road. It's an honor and we are excited for these shows, the fans, and the good times! KillThrax is gearing up for round two, so let's keep the party rolling!"
As with the inaugural KillThrax tour, Killswitch Engage and Anthrax will rotate the show's closing slot on KillThrax II. Fans can also expect a night of high energy, musical ferocity and sheer intensity, and what one reviewer called "an incredible night of live music with heavy hitters that provided hours of escape into metal bliss."
Confirmed dates for KillThrax II are:
January:
25 Metropolis, Montreal, QC
26 London Music Hall, London, ON
27 Sherman Theatre, Stoudsburg, PA
28 The National, Richmond, VA
30 Janus Landing, Tampa, FL
31 The Fillmore, Charlotte, NC
February:
2 Club Stage @ Eagles Ballroom, Milwaukee, WI
3 Egyptian Room, Indianapolis, IN
5 Marathon Music Works, Nashville, TN
6 Iron City Music Hall, Birmingham, AL
8 Concrete Street Music Hall, Corpus Christi, TX
9 Lonestar Pavilion, Lubbock, TX
10 Criterion, Oklahoma City, OK
11 El Rey Theater, Albuquerque, NM
13 House of Blues, San Diego, CA
14 House of Blues, Anaheim, CA
16 Revolution, Boise, ID
17 Knitting Factory, Spokane, WA
19 The Ranch, Edmonton, AB
20 Revolution Place Casino, Grande Prairie, AB
21 Mac Hall, Calgary, AB
23 Burton Cummings Theatre, Winnipeg, MB
24 Skyway Theatre, Minneapolis, MN
25 Anthem @ Hard Rock Hotel & Casino, Sioux City, IA
27 The Forge, Joliet, IL
March:
1 Rams Head Live, Baltimore, MD
2 The Dome, Rochester, NY
3 Palladium, Worcester, MA
4 State Theater, Portland, ME