ALTER BRIDGE "LIVE AT THE ROYAL ALBERT HALL" OUT SEPTEMBER 7TH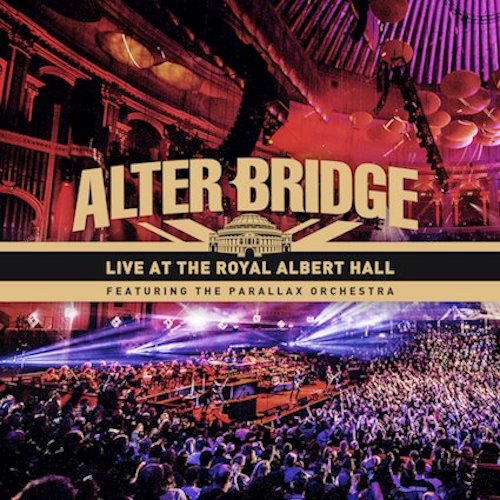 After 14 years performing together, five full-length studio albums, and countless sold-out shows around the globe, there aren't many items left on a band's bucket list. For Alter Bridge, one of the remaining list items was crossed off in October 2017 when the band performed two sold-out shows at London's iconic Royal Albert Hall backed by the 52-piece Parallax Orchestra led by conductor Simon Dobson. Those career-defining shows were captured and combined in the upcoming Napalm Records worldwide release Live At The Royal Albert Hall on September 7th.
"I think out of all the years of doing this [music], this experience is the top two or three highlights without a doubt. It's something that none of us are going to forgot," explains Myles Kennedy in a recently released trailer that can be seen below.
Live At The Royal Albert Hall is a 21-song collection that features some of Alter Bridge's biggest hits, fan favorites and even a couple of rarities including Words Darker Than Their Wings – a song the band had never played live previously. Songs like Before Tomorrow Comes, Ghost Of Days Gone By, The Last Hero, and Broken Wings all find new life with the unique arrangements presented by Dobson and the Parallax Orchestra performing alongside the band. The pre-order for the release is live and fans can order various audio and video configurations including Blu-Ray, DVD, CD and Vinyl as well as other unique bundles with exclusive content. The pre-order is currently live here and alterbridge.com. A portion of the proceeds from all sales will go to the Future Song Foundation; an organization that Myles Kennedy is closely involved with. The first track released from the collection is the band's chart-topping single Addicted To Pain. The video for that song can be seen below.
Alter Bridge line-up:
Myles Kennedy on vocals/guitars
Mark Tremonti on guitars/vocals
Brian Marshall on bass
Scott Phillips on drums
For more info visit: