ALTER BRIDGE ANNOUNCE SPRING U.S. HEADLINE DATES WITH IN FLAMES AND METAL CHURCH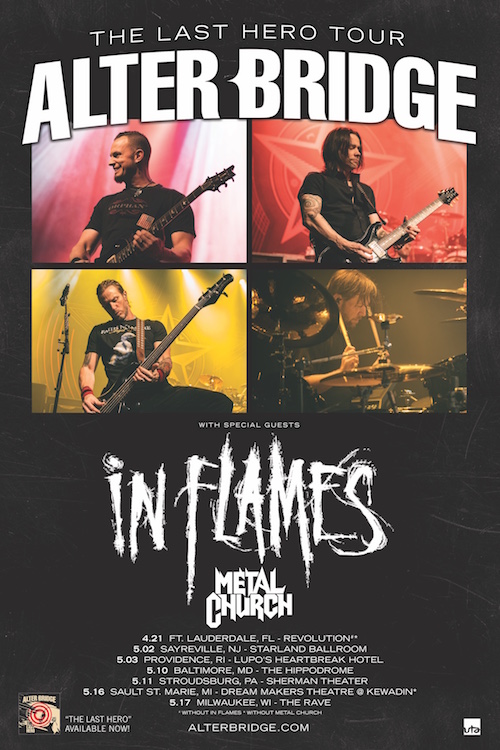 Hot on the heels of their most successful headline tour of North America, Alter Bridge are announcing the next leg of The Last Hero Tour in the United States hitting the road this Spring. The headline dates will be scattered among the numerous festival dates that Alter Bridge is already confirmed for including WJRR Earth Day Birthday, Monster Energy Fort Rock Festival, Monster Energy Welcome To Rockville, Carolina Rebellion, Northern Invasion and Rock On The Range. The headline tour will kick off in Fort Lauderdale, FL and make stops in Sayreville, NJ; Providence, RI; Baltimore, MD; Stroudsburg, PA; Sault Sainte Marie, MI; and Milwaukee, WI. In Flames and Metal Church will be joining Alter Bridge on select dates of the tour. Fans can head over to alterbridge.com/tour for more information on each date including public onsale information and exclusive VIP experiences including meet & greet and guitar lesson opportunities.
Alter Bridge recently took their newest single, My Champion, to radio. The single is currently in the Top 25 at Active Rock with a bullet. The single comes from the band's latest release The Last Hero that was released in October and brought the band their highest first-week chart appearance since their 2004 debut. The lyric video for My Champion has been viewed over 1.2 million times and can be seen here. The song has received over 1.5 million plays on Spotify.
Alter Bridge is wrapping up their current headline tour this week. Joined by Nonpoint, the tour played to packed rooms in Atlanta, GA; Royal Oak, MI; and Kansan City, MO among others and boasted numerous sell-outs throughout the United States. The Last Hero Tour wraps up in Seattle, WA on February 22nd. Tickets can be purchased at alterbridge.com/tour.
The Last Hero Tour tour dates:
April:
21 Revolution Fort Lauderdale, FL *#
22 WJRR Earth Day Birthday Orlando, FL*#
29 Monster Energy Fort Rock Festival Fort Myers, FL *#
30 Welcome To Rockville Jacksonville, FL *#
May:
2 Starland Ballroom Sayreville, NJ
3 Lupo's Heartbreak Hotel Providence, RI
5 Lunatic Luau Festival 2017 Virginia Beach, VA *#
6 Carolina Rebellion Concord, NC *#
10 The Hippodrome Baltimore, MD
11 Sherman Theater Stroudsburg, PA
14 Northern Invasion Somerset, WI *#
16 Dream Makers Theatre Sault Saint Marie, MI #
17 The Rave Milwaukee, WI
20 Rock On The Range Columbus, OH *#
* Without In Flames
# Without Metal Church
Alter Bridge is:
Myles Kennedy on vocals/guitars
Mark Tremonti on guitars/vocals
Brian Marshall on bass
Scott Phillips on drums
Alter Bridge online