ALICE COOPER REMEBERS HE OWNS AN ANDY WHARHOL, FINDS IT IN A STORAGE LOCKER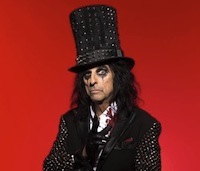 Rock star Alice Cooper found an Andy Warhol silkscreen that could be worth millions of dollars stashed away in his LA storage locker — which he forgot about for nearly 40 years, the Guardian reported.
Cooper, 69, only remembered the print, "Little Electric Chair," four years ago, while out at dinner with an art dealer friend, who talked about a different Warhol that fetched a pretty penny at auction.
That jogged Cooper's memory enough to go looking for his own masterpiece.
"We went and found it rolled up in a tube," Shep Gordon, Cooper's longtime manager, told the site on Monday.
Cooper's girlfriend Cindy Lang paid $2,500 for the print to give the rocker for his birthday in 1974. But today, the piece could be worth a small fortune.
In November, a green version of the same print sold for $11.6 million. Cooper's may be worth a bit less, because it's unsigned, according to art dealer Richard Polsky, who said the piece is the real McCoy.
"I'm 100 percent," Polsky said. "It's hard to appreciate how little Warhol's art was worth at the time. Twenty-five hundred was the going rate at the time. Why would Andy give him a fake?"
Policy continued, "He had plenty of electric chairs. They were not an easy sell. They weren't decorative in the conventional sense. It's a brutal image."
The silkscreen is based on a photograph of the Sing Sing prison death chamber where Ethel and Julius Rosenberg were executed, and is part of the pop artist's Death and Disaster series.
"Truthfully at the time no one thought it had any real value," Gordon said. "Andy Warhol was not 'Andy Warhol' back then. And it was a swirl of drugs and drinking."
Cooper didn't want to hang the print in his home, but may be coming around since hearing Polsky's estimate of the value of the piece.
"You should have seen Alice's face when Richard Polsky's estimate came in. His jaw dropped and he looked at me. 'Are you serious? I own that!'"
additional source: pagesix.com