ALICE COOPER RELEASES NEW SONG, "WHITE LINE FRANKENSTEIN," FROM THE FORTHCOMING NEW ALBUM, "ROAD" OUT AUGUST 25TH, ANNOUNCES OCTOBER TOUR DATES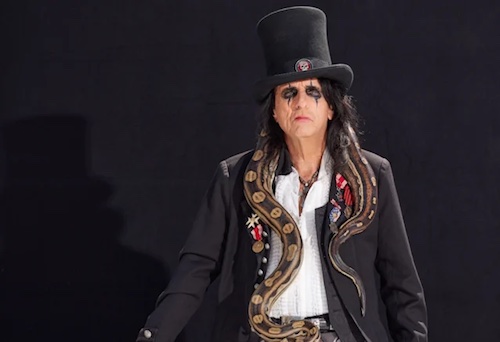 Alice Cooper has released a new single, White Line Frankenstein, from his upcoming album Road, due out August 25th on earMUSIC.
White Line Frankenstein is built on a rocking riff as it goes into a memorable chorus, "They call me 'White Line Frankenstein'," leading into a trademark Tom Morello guitar solo, hot enough to burn rubber.
"White Line Frankenstein is a monster that we created. It's a truck driver who's been out there a long time. He's the king of the road. He doesn't live in a house. He lives in that truck," Alice says. "In the song, this surreal tough guy is driving on white lines for his whole life. So, 'White Line Frankenstein' would be his CB handle. It's monstrous and definitely a stage song." Listen to it, below.
Additionally, Cooper has announced the extension of his 2023 North America tour, adding shows through the month of October. The shows October 3rd-23rd will be "An Evening With," and he closes out the month October 25th, 26th and 28th with three co-headlining Halloween Hootenanny shows with Rob Zombie. This follows his six shows with Mötley Crüe and Ded Leppard, along with six of his own "Evening With" shows August 5rg-22nd, followed by a monthlong co-headline Freaks On Parade tour with Rob Zombie August 24th-September 24th.
Alice Cooper live in North America 2023:
Aug. 05 – Syracuse, NY – JMA Wireless Dome
Aug. 06 – Johnston, PA – 1st Summit Arena @ Cambria County War Memorial
Aug. 08 – Columbus, OH – Ohio Stadium
Aug. 10 – Madison, WI – Overture Center for the Arts
Aug. 11 – Fargo, ND – Fargodome
Aug. 13 – Omaha, NE – Charles Schwab Field Omaha
Aug. 15 – Springfield, MO – Hammons Hall for the Performing Arts
Aug. 16 – Tulsa, OK – Skelly Field at H.A. Chapman Stadium
Aug. 18 – El Paso, TX – Sun Bowl Stadium
Aug. 19 – Midland, TX – Wagner Noel Performing Arts Center
Aug. 20 – Lubbock, TX – Buddy Holly Hall
Aug. 22 – San Antonio, TX -Tobin Center
Aug. 24 – Dallas, TX – Dos Equis Pavilion
Aug. 26 – Tampa, FL – MIDFLORIDA Credit Union Amphitheatre
Aug. 27 – West Palm Beach, FL – iTHINK Financial Amphitheatre
Aug. 29 – Raleigh, NC – Coastal Credit Union Music Park @ Walnut Creek
Aug. 30 – Virginia Beach, VA – Veterans United Home Loans Amphitheatre
Sep. 01 – Tinley Park, IL – Hollywood Casino Amphitheatre
Sep. 02 – Des Moines, IA – Wells Fargo Arena
Sep. 05 – Clarkston, MI – Pine Knob Amphitheatre
Sep. 06 – Toronto ON – Budweiser Stage
Sep. 08 – Scranton, PA – The Pavilion @ Montage Mountain
Sep. 09 – Wantagh, NY – Northwell Health Theatre @ Jones Beach
Sep. 10 – Hartford, CT – XFINITY Theatre
Sep. 12 – Nashville, TN – Bridgestone Arena
Sep. 13 – Cincinnati, OH – Riverbend
Sep. 15 – Bonner, Springs KS – Azura Amphitheatre
Sep. 16 – Greenwood Village, CO – Fiddler's Green
Sep. 19 – Ridgefield, WA – RV Inn Style Resorts Amphitheatre
Sep. 20 – Auburn, WA – White River Amphitheatre
Sep. 22 – Concord, CA – Pavilion
Sep. 23 – Anaheim, CA – Honda Center
Sep. 24 – Phoenix, AZ – Talking Stick Resort Amphitheatre
Oct. 04 – St Augustine, FL – Amphitheatre
Oct. 05 – Wilmington NC – Wilson Center @ Cape Fear College
Oct. 07 – Evansville, IN – Aiken Theatre In The Centre
Oct. 08 – Wheeling, WV -WesBanco Arena
Oct. 10 – Troy, OH – Hobart Arena
Oct. 11 – Wabash, IN – Honeywell Center
Oct. 13 – Paducah, KY – Luther F Carson Four Rivers Center
Oct. 14 – N Little Rock, AR – Simmons Bank Arena
Oct. 15 – Lafayette, LA – Heymannn Performing Arts Center
Oct. 17 – Enid, OK – Stride Bank Center
Oct. 19 – Colorado Springs, CO – Pikes Peak Center
Oct. 20 – Rio Rancho, NM – Events Center
Oct. 21 – Tucson, AZ – AVA Amphitheatre
Oct. 23 – Paso Robles, CA – Vina Robles Amphitheatre
Oct. 25 – Highland, CA – Yaamava Theater
Oct. 26 – Reno, NV – Grand Sierra Resort
Oct. 28 – Las Vegas, NV – Bakkt Theatre
Produced by longtime collaborator Bob Ezrin, Road was written, composed and recorded with Alice's trusted, longtime bandmates — Ryan Roxie (guitar),Chuck Garric (bass),Tommy Henrikson (guitar),Glen Sobel (drums) and Nita Strauss (guitar). Road channels the spirit of old-school Alice with instantly recognizable grit and plenty of gusto. It's everything you'd hope for from him and more.
"In the past, the show got reviewed before the music did," laughs Alice. "We had hit #1 albums, but it was always about what we did on stage. For Road, I wanted the band to be involved in the foundation of all the songs. I only see these guys when we're on the road. So, I wanted them to be as tight as they are for the show but on all new material. That's what we did for this record. When you have a band this good, I believe in showing it off, and this is my way of doing so."
The album opener and first single I'm Alice sets the tone for the album with its driving drumbeat as guitars wail in the distance. Alice's instantly recognizable rasp takes hold, "I know you're looking for a real good time. So, let me introduce you to a friend of mine. I'm Alice. I'm the Master of Madness; the Sultan of Surprise…so don't be afraid, just look into my eyes."
Road is going to be released in a wide variety of formats and limited vinyl colors. Complementing the album's theme, the bonus DVD/Blu-ray comes with Alice Cooper's 2022 full live show at Hellfest and includes all the classics and rarely played gems.
Road track listing:
1. I'm Alice
2. Welcome To The Show
3. All Over The World
4. Dead Don't Dance
5. Go Away
6. White Line Frankenstein
7. Big Boots 
8. Rules Of The Road
9. The Big Goodbye
10. Road Rats Forever
11. Baby Please Don't Go
12. 100 More Miles 
13. Magic Bus
Live At Hellfest 2022 (DVD/Blu-ray) track listing:
1. Feed My Frankenstein
2. No More Mr. Nice Guy
3. Bed Of Nails
4. Hey Stoopid
5. Fallen In Love
6. Go Man Go
7. Guitar Solo By Nita Strauss
8. Roses On White Lace
9. I'm Eighteen
10. Poison
11. Billion Dollar Babies
12. The Black Widow Jam
13. Steven
14. Dead Babies
15. I Love The Dead
16. Escape
17. School's Out
No stranger to doing things his own way, Alice has cast a long shadow over rock music with an unrivaled live show and timeless anthems like School's Out, No Mr. Nice Guy and Poison. Selling over 50 million albums worldwide, he earned a star on the Hollywood Walk Of Fame in 2003, and the Rock And Roll Hall Of Fame inducted him as part of its class of 2011.
Boasting one of the most influential catalogs in history, Rolling Stone cited 1971's platinum-certified Love It To Death among the "500 Greatest Albums Of All Time", while other platinum releases spanned the seminal Killer(1971),School's Out (1972),the Billboard 200 No. 1 Billion Dollar Babies(1973),Welcome To My Nightmare (1975) and Trash (1989),to name a few. The latter even graced Rolling Stone's "50 Greatest Hair Metal Albums Of All Time." He's so embedded in generations of popular culture that he not only made a cult-classic cameo in Wayne's World during 1992, but he also starred alongside EGOT winner John Legend and Sara Bareilles in NBC's 2018 production of Andrew Lloyd Weber's "Jesus Christ Superstar Live In Concert" — not to mention, who else appeared on "The Muppets" in seventies and "That 70s Show" in the early aughts?!
Beyond hundreds of syncs, everyone from Etta James, The Smashing Pumpkins, Megadeth and The Flaming Lips has covered his tunes. The Beastie Boys, Disturbed, and countless others have sampled him. His collaborators have notably included the late Vincent Price, Aerosmith, Guns N' Roses and Jon Bon Jovi, to name a few. Plus, he co-founded Hollywood Vampires alongside Aersosmith's Joe Perry and Johnny Depp.
Most recently, 2021's Detroit Stories garnered widespread critical acclaim. It bowed at No. 1 on the Billboard Album Sales chart, hit No. 1 in Germany, and garnered nine Top 10 debuts worldwide.