ALICE COOPER ON HIS TOUR WITH MARILYN MANSON: "I DIDN'T KNOW WHAT TO EXPECT"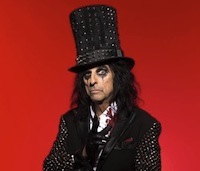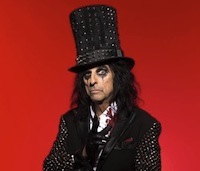 Gary Graff of Billboard reports:
Alice Cooper tells Billboard he's "three-quarters of the way through" a covers album that will focus on what he calls "the time period of the Hollywood vampires," the hard-partying crew of the early- and mid-70s that included the likes of John Lennon, the Who's Keith Moon, Harry Nilsson, Ringo Starr and "honorary" guests such as T. Rex's Marc Bolan and Keith Allison of Paul Revere & the Raiders. The set will also include Sunset Strip forebears such as the Doors' Jim Morrison and Jimi Hendrix. Bob Ezrin, who produced several of Cooper's 70s best-sellers as well as 2011's Welcome 2 My Nightmare, is working on the set.
"We're really happy, all of us, everyone involved in the covers because it's pretty much what we wanted to do," Cooper says. "We specified a certain time period and said, 'Let's stay within that. Let's not move it around too much.' We don't want to be doing cover songs from the 80s and 90s when the Hollywood vampires kind of thing was more '73, '74, '75."
"We have September off, so we'll probably take that time and just finish it," Cooper notes. "I think we could finish the whole thing in September and it'll be out, I would say, by early spring."
Cooper, meanwhile, is still buzzing about [his tour] dates with [Marilyn] Manson, which he says were "great. Y'know, I didn't know what to expect. I didn't know him personally. I'd heard nothing but horror stories. Johnny Depp is one of his best friends; Johnny said he can be a handful, but I think Johnny talked to him and kind of backed him off a little bit. But (Manson) was nothing but respectful, a total pro. Honestly, it was a real flawless tour. I think we made converts of his audience, and there was an older audience that came that was suspect of him but liked him. So both of us benefited from this tour — the elder myth and the new myth. It really did work, and I'm sure we'll do it again."
Read more at Billboard.
source: billboard.com