ALICE COOPER DISCUSSES HIS COVERS ALBUM AND TOURING WITH MARILYN MANSON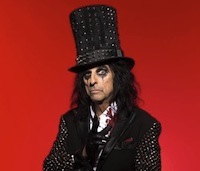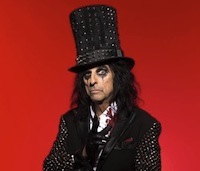 Steve Baltin of Rolling Stone spoke with rock icon Alice Cooper. Portions of the interview appear below.
RS: How is the covers record we spoke about in March going?
AC: We're about halfway through the record. The tour is sort of in the way, but that's okay, because we don't need to put the record out until next year. I always tour June through December anyway, so we knew that was coming anyway, and this is one of those records we're doing just for the fun of it, so if it comes out next year, no big deal. But the tour is interesting. I toured with Zombie the year before and with Iron Maiden and now with Manson. It's sort of like Dracula meets the Werewolf meets Frankenstein.
RS: Have you had a chance to hang out more with Manson since we spoke?
AC: I saw him at the Revolver Golden Gods Awards and then I had him on my radio show, so yeah we're feeling each other out. We have a lot in common, stuff that other people wouldn't have in common in the fact that we both play characters. We both created a couple of monster characters and then what we kind of talked about on my radio show is how do you deal with that character against your real life? And sometimes that character being the fact that it's so overpowering, does it ever take over? For me, I've had a lot more time to work with Alice, so I know when to be Alice and when not to be Alice. I just told him it's very hard to maintain a character 24 hours a day and there may come a time when you have to divorce yourself from the character just so you'll like the character.
RS:Did you give him advice on it then?
AC: He's very smart, he's got very good insight. We were talking about why we created the characters, what was the idea behind it. My idea was that rock needed a consummate villain and I would be more than happy to create that villain. I thought I had to be that character all the time and it nearly killed me. I'm trying to drink with Jim Morrison and Jimi Hendrix and those guys, and they're professionals, and I'm like 18 years old, it nearly killed me. That's when I realized I have to allow myself to be me and then I really appreciate playing the character of Alice. I don't know how long you can maintain one character 24 hours a day without having some kind of a break.
RS: My guess is you probably would start to lose your identity.
AC: Yeah, but again, that's just something you have to learn. I didn't know my limitations until I got to the point where I got to a near-death experience and then I started going, "Wait, now I know where Alice ends and I begin." It's one of the only things I can give him advice on, cause we and Rob Zombie are three of the people that created characters we had to deal with, our bigger-than-life mythological character. And me being that character for 40 years gave me a little more insight into it. I might handle it differently than they do, but I can at least show them where the thin ice is.
RS: You know you've influenced these artists as well, so it's interesting; you're hearing your stuff interpreted through their eyes.
AC: I think the difference is that my background is Yardbirds, the Who, Rolling Stones, West Side Story and Creature From The Black Lagoon, that's my background. I come from that blues-rock and then I put my own twist on it and my own Twilight Zone twist on it, whereas these guys, Zombie and Marilyn, both come from a more industrial kind of music, much more from a techno background. When you saw Alice and Zombie, that was a very classic kind of show. Alice was pure hard rock, classic rock, lots of hits and then lots of Vaudevillian show biz, whereas Zombie was just all techno and in your face kind of theatrics. That was great. It was all video and this and that, and I sat there and watched his show and went, "This is great." I love the way he used technology, whereas my show is much more handmade. So you get two entirely different kinds of monsters in that show. I have a feeling it's going to be more like that with Manson also. I think Manson is also going to have more of a techno version, he is more of a techno monster than Alice, whereas Alice is more cerebral I think. These guys were influenced by Alice's attitude and Alice's persona whereas they weren't as influenced by my music. Trent Reznor's music probably influenced them more and I totally get that idea. When you see a Marilyn and a Zombie and an Alice – when you get in front of the audience, it's in your face, it's not shy: It's attack the audience. Don't just go out there and be this character, but attack the audience with that character, and that's what I see in those guys. What I contributed to them is probably the attitude of take no-prisoners-showmanship.
Read more at Rolling Stone.
source: rollingstone.com