AEROSMITH'S TYLER AND PERRY DISCUSS WRITING "WALK THIS WAY" AND "DUDE LOOKS LIKE A LADY"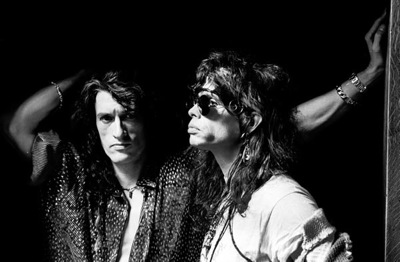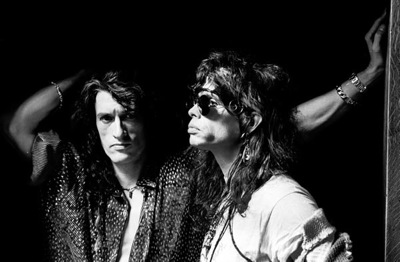 Billy Heller of the New York Post reports:
Filmmaker Mel Brooks is hardly known as a lyricist. But Aerosmith's Steven Tyler and Joe Perry are more than happy to give him props for an assist on one of their best-known songs. As the rockers get ready for their induction into the Songwriters Hall of Fame on June 13th at the Marriott Marquis, they and the other tunesmiths being honored shared the secrets behind their hits. Here's what they told us:
Steven Tyler and Joe Perry, Walk This Way:
It began, says Perry, at a soundcheck in Hawaii where he came up with the initial guitar riff. Cut to New York a while later. Tyler had been working on lyrics for the Toys in the Attic album, and brought some along when he headed for a session at the Record Plant on West 44th Street.
"I left them in the cab," says Tyler. "I was devastated." He went upstairs to let his bandmates know, then walked down to an empty floor to rewrite them.
I had a pencil, but I left paper upstairs," Tyler says. "I had a cassette of what I'd put together as an arrangement. So I started singing along best I could and I sat on the steps and wrote the lyrics on the wall."
Meanwhile, Perry says, "Some of us took a break and went out to the movies to see [Mel Brooks'] Young Frankenstein. When we got back to the studio, we were throwing lines from the movie back and forth."
"They came back and they were going 'Walk this way,'" recalls Tyler, referencing a line Marty Feldman says to Gene Wilder in the film. "And it was just the perfect thing."
Dude Looks Like a Lady:
"This song started from a sampler that we'd bought. We were all farting in it, burping," says Tyler. Perry was also playing his guitar into it, and came up what they would use as an intro. Then, says Tyler, "I had most of the lyrics written, but I didn't know how to f-kin' start the song. The original lyric was 'cruising for the ladies,' 'cause it fit.
I had gone out one night with the guys in Mötley Crüe, and Nikki Sixx and all of 'em were all going: 'Dude, man, dude, I love your music,' and "Dude, Steven, f - - king Aerosmith. What the f- - k , dude. Dude.
And I just f - - king lost my sh-t about it, so instead of 'Cruising' it was 'Dude.' Tyler then made to leap to "Dude looks like a lady," and, he says, "I just looked at Joe and I remember saying, 'Can I f - - king sing that?' And he said, 'Why not; you've sung everything else,' you know. And the rest is history."
source: nypost.com