ADLER POSTPONES SUMMER TOUR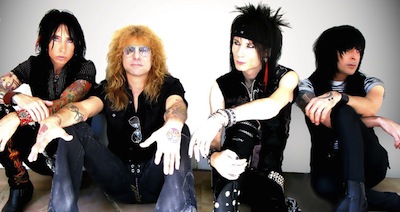 Adler, the new band led by former Guns N Roses drummer Steven Adler has postponed its Summer tour due to Steven checking into an undisclosed rehabilitation center to continue working on his sobriety.
"We are truly sorry to all of the fans and promoters who were looking forward to seeing us on the road, but right now Steven's health is the most important thing" states frontman Jacob Bunton. "We hope to make it up to everyone when Steven recovers."
U.S. dates are currently being rescheduled to early fall.
Adler's debut album Back From The Dead was released November 26th via New Ocean Media. Recorded in Los Angeles with producer Jeff Pilson (Foreigner, Dokken), the CD consists of 11 tracks, ranging from adrenaline-pumping rockers (Back From The Dead, Own Worst Enemy, Another Version Of The Truth) to arena-rock anthems (Good To Be Bad,Blown Away) to powerful, heartfelt ballads (Waterfall, Just Don't Ask). The album features guest appearances by Adler's former Guns N' Roses bandmate Slash and Rob Zombie/ex-Marilyn Manson guitarist John 5.
Adler is comprised of Steven Adler, frontman Jacob Bunton (Lyam, Mars Electric), guitarist Lonny Paul (Adler's Appetite), and bassist Johnny Martin (Chelsea Smiles).
For more information, please visit adlerrocks.com.