ADLER ANNOUNCES 2013 TOUR DATES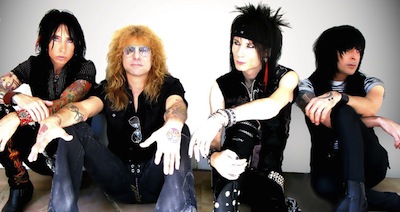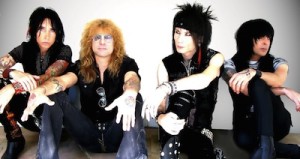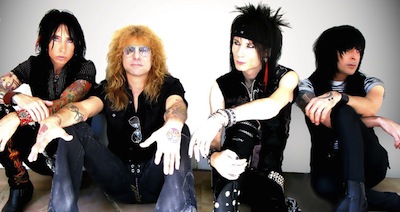 Adler, the new band led by former Guns N' Roses drummer Steven Adler, announced the first part of their Back From The Dead tour. The first string of shows kicks off March 2nd at Ramona Mainstage in Ramona, California and continues through late July. The band are currently finalizing the European leg of the tour, which is slated to start in mid-September. The European tour will include dates in Spain, Germany, Italy, Holland, France, Belgium and the United Kingdom with dates and venues to be determined.
Adler's debut album Back From The Dead was released on November 26th through New Ocean Media. Recorded in Los Angeles with producer Jeff Pilson (Foreigner, Dokken) and mixed by Jay Ruston (Anthrax, Stone Sour), the CD consists of 11 tracks, ranging from adrenaline-pumping rockers to arena-rock anthems to powerful, heartfelt ballads. The album features guest appearances by Adler's former Guns N' Roses bandmate Slash and Rob Zombie/ex-Marilyn Manson guitarist John 5.
Adler is comprised of Steven Adler, frontman Jacob Bunton (Lynam, Mars Electric), guitarist Lonny Paul (Adler's Appetite), and bassist Johnny Martin (Chelsea Smiles).
"The process of making this record was incredible," states Bunton. "Our musical influences are all over the place and this record is a perfect reflection of everything that we love about rock 'n' roll." "I'm so proud of this record," adds Steven Adler. "This is the record I've been wanting to make for over 20 years and now I've finally found the band with the perfect chemistry to make it happen!"
For more information, check out the band at www.adlerrocks.com and www.facebook.com/adlermusic.
'Back From The Dead' 2013 Tour Dates:
3/2 Ramona Mainstage – Ramona, CA
3/7 Tokyo Duo – Tokyo, Japan (with Duff McKagan's Loaded)
3/8 Tokyo Duo – Tokyo, Japan (with Duff McKagan's Loaded)

5/16 The Coach House – San Juan Capistrano, CA
5/17 Count's Vamp'd – Las Vegas, NV
5/18 Club Red – Tempe, AZ
5/30 St. Rocke – Hermosa Beach, CA
5/31 Whisky A Go Go – Hollywood, CA

6/19 Backstage Bar – Tacoma, WA
6/20 El Corazon – Seattle, WA
6/21 Diamondz – Jerome, ID
6/22 Rock The Falls Festival – Idaho Falls, ID
6/23 Jammin Joe's – Arvada, CO
6/26 TBA – Bismarck, ND
6/27 Legacy Ballroom – Fargo, ND
6/28 The Reverb – Waterloo, IA
6/29 The Grove – Lincoln, NE
6/30 Busters – Mankato, MN

7/3 The Summit Summer Concert Series – Whitesburg, KY
7/4 The Back Bar – Janesville, WI
7/5 Diesel Concert Theatre- Detroit, MI
7/6 Montage Theater – Rochester, NY
7/7 Shipwrecked Music Hall – Dennisport, MA
7/8 Legendary Dobbs Concert Hall – Philladelphia, PA
7/9 House Of Rock – White Marsh, MD
7/10 Dead Horse Cantina – Mckees Rocks, PA
7/11 Changes Niteclub – New Castle, PA
7/12 Revolution Music Hall – Amityville, NY
7/13 The Rock Junction – West Greenwich, RI
7/14 TBA – New Jersey
7/15 TBA – New York, NY
7/16 Empire – West Sprinfield, VA
7/17 Tink's Rock House – Marion, OH
7/18 The Tap House – Akron, OH
7/19 TBA – Cleveland, OH
7/20 Tailgators – Bolingbrook, IL
7/21 TBA – St. Louis, MO
7/24 House Of Blues – Houston, TX
7/26 House Of Blues – Dallas, TX
7/27 TBA – San Antonio, TX
7/28 TBA – El Paso, TX

source: sleazeroxx.com