ACE FREHLEY RELEASES NEW MUSIC VIDEO FOR "ROCKIN' WITH THE BOYS," ALL NEW SOLO LP, "SPACEMAN," DUE THIS FRIDAY, NYC POP UP STORE ANNOUNCED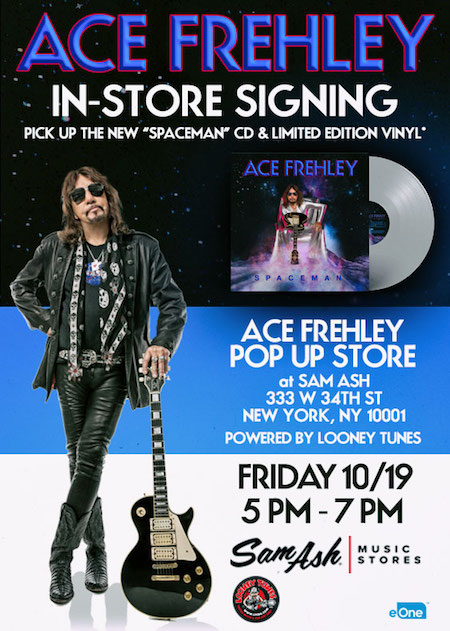 Founding KISS guitarist and Rock and Roll Hall Of Fame member Ace Frehley has released the music video for Rockin' With The Boys (see below). Filmed live in Detroit Rock City, this is the first music video we've seen from The Spaceman since he released the video for Fire and Water.
That video featured KISS frontman Paul Stanley and was off of Origins, Vol. 1, released in 2016. The video was done by veteran director Justin Reich.
This is the second song Frehley has released this year, from his forthcoming all-new Spaceman album, due October 19th, through Entertainment One (eOne). Frehley previously released the track Bronx Boy in April.
Spaceman, Frehley's eighth solo LP, features nine new original tracks, plus a cover of Eddie Money's I Wanna Go Back, a ripping power pop makeover of the original.
Ace Frehley will be appearing on Good Day NY/ on WNYW Fox 5 tomorrow, October 16th at 9 AM EDT, performing his new single, Rockin' With The Boys in its entirety.
Additionally, an Ace Frehley "Spaceman" pop up store powered by Looney Tunes is planned for October 19th at the Sam Ash Music store, located at 333 W 34th St. in New York City. Ace will be appearing from 5-7PM EDT signing copies of his new album.
Spaceman LPs and CDs will be available to purchase as well as the limited edition Orange Viny only currently available at indie store locations in the U.S.
No need to worry, I'll be home soon, 'cause I'm rockin' with the boys," Frehley sings on Rockin' With the Boys, which tells the tale of life on the road. Ace says he wrote the original version of the song back in KISS's heyday in the '70s. Both Rockin With The Boys and Bronx Boy are available on all streaming platforms today, and are iTunes instant grat tracks for fans who preorder the album.
In addition to Ace's distinctive guitar sound on each track, Ace played bass on all of the songs on Spaceman except for two. The listener might recognize the mighty dinosaur growl of a bass tone belonging to Gene Simmons on the album opener, Without You I'm Nothing, which Gene also co-wrote, and Your Wish Is My Command. Both songs were recorded at Frehley's home studio in Rancho Santa Fe, California.
Ace's reconnection with Simmons and fellow KISS vocalist-guitarist Paul Stanley (who joined Ace on a cover of Free's Fire and Water for 2016's covers LP Origins, Vol. 1) might be chalked up to the fact that Frehley has been sober for more than a decade (he celebrates 12 years of sobriety in September). Ace's clean living no doubt has a lot to do with his productive streak, which began with the release of his top 20 Anomaly album in 2009.
Spaceman (a title suggested by Simmons, himself) serves as the first collection of all new Frehley-penned material since 2014's Space Invader, which debuted at #9 on the Top 200 Chart. The LP scored the highest charting position of any former or current KISS band member ever and marked Frehley's first return to the Top 10 since KISS's 1998 Psycho Circus reunion album.
Spaceman track listing:
1. Without You I'm Nothing
2. Rockin' With the Boys
3. Your Wish Is My Command
4. Bronx Boy
5. Pursuit Of Rock and Roll
6. I Wanna Go Back
7. Mission To Mars
8. Off My Back
9. Quantum Flux
Ace Frehley tour dates:
Oct 31-Nov. 5 Miami to Key West and Nassau, KISS Kruise VIII
November 9 Clearwater, FL, Capitol Theatre
November 10 Melbourne, FL, King Center for the Performing Arts
November 11 Miramar, FL, Miramar Amphitheatre